Baby deer survives unusual birth in N. Jackson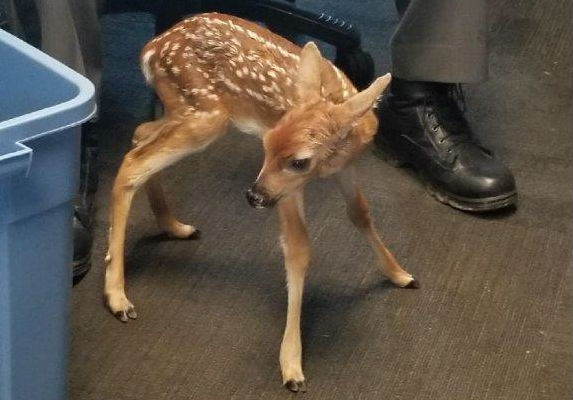 ---
By WILLIAM K. ALCORN
alcorn@vindy.com
NORTH JACKSON
"It's a miracle. I've never seen anything like it," said Ohio State Highway Patrol Sgt. Eric Brown, afternoon supervisor of the Canfield Post.
The "miracle" is a baby deer that is alive and well after it was ejected from his mother's body when she was hit by a vehicle on Interstate 76 in Jackson Township west of the Ohio Turnpike. A game warden from Akron arrived at the OSHP Canfield post at about 9:30 p.m. Sunday to transport the deer to a shelter.
The saga began at about 6:30 p.m. Sunday when a woman reported a deer injured along I-76. When Brown went out to investigate, he first found the live baby deer and carried it to the fence at the edge of the road hoping that the mother would hear or smell her baby and come and take care of it.
Then he found the mother and unfortunately, the twin, both dead.
"It's amazing. It's a miracle. We named it Trooper," reiterated Brown.
More like this from vindy.com