For some, Boardman Relay for Life is beacon of hope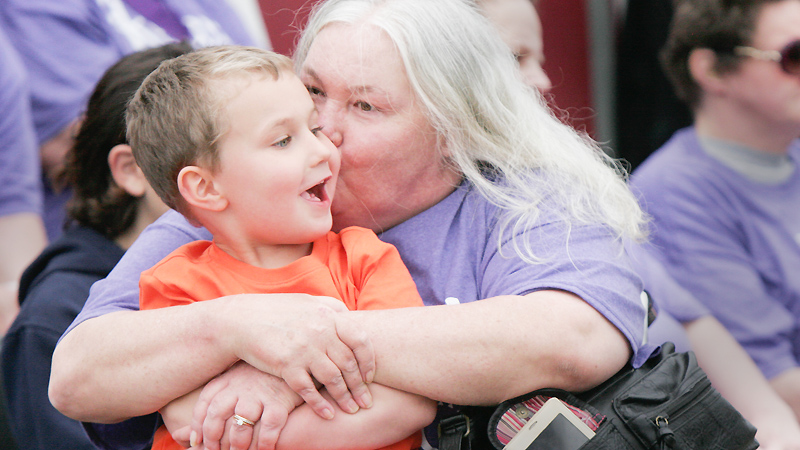 ---
By SAMANTHA PHILLIPS
sphillips@vindy.com
BOARDMAN
Decades ago, a doctor diagnosed Kathy Flickinger of Youngstown with cancer and told her she had five years to live.
She was proud to celebrate 20 years of being cancer-free at the 2018 Boardman Relay for Life, with her family by her side.
"I've been waiting for this day," she said.
About 32 teams with about 15 people each participated this year at Boardman Intermediate School track Friday.
Flickinger, who spoke at the opening ceremony, was one of a handful of participants who planned to walk from 6 p.m. Friday to 6 a.m. Saturday. Participants can walk for as long as they want.
Luminarias to honor loved ones with cancer lined the track.
Teams held their own fundraisers at their tents in the center of the track, selling baskets and offering games to raise more money. A couple of the tents were Hawaiian-themed, and men wearing hula outfits walked the track.
The relay raises money for the American Cancer Society. The funds go toward research for a cure, educational advocacy and programs, including transportation for patients, said committee member Mark Luke.
Event organizers set out to raise $80,000 this year.
"We raise money and hope for tomorrow," he said.
Linda Miller of Austintown walked all night. Her team was Team Ron, in honor of her son-in-law, who died of cancer.
"I walk for those who can't walk," she said.
She and her friend Rebecca Boyer of Liberty are both American Cancer Society team ambassadors.
Boyer walks in support of all her loved ones who have faced the disease, especially her mother, who survived ovarian and colon cancer, and her father, who died of asbestos melanoma.
"We've lost so many from this bad disease," Boyer said. "This relay is a tradition."
Sandy Ross of Boardman has been a breast cancer survivor for about four years.
"This walk is important to me because it's a beacon of hope," she said. "I come out every year for the survivors. It gives me hope that we can get closer to a cure."
Others agree there's hope in store. Luke said the rate of cancer survivors is going up.
"The survivor rates are going up because of the research that happens with funding from these events," he said. "There's better treatment, better medicine, better protocols, but also, people are getting tested and catching it earlier."
More like this from vindy.com