Lions get first region qualifier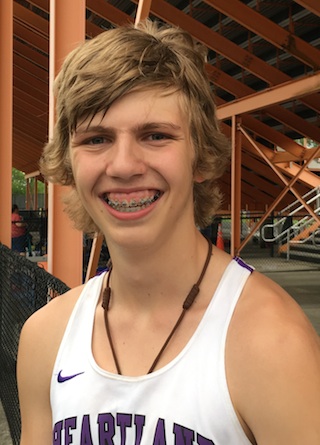 Photo
By BRIAN DZENIS
bdzenis@vindy.com
NEW MIDDLETOWN
Last year, Sebastian Sharo put his crutches down and started running.
Where he ends up is anybody's guess. The Heartland Christian sophomore is heading to a place never visited by any of his peers: a regional track meet. With a third-place finish in the 1600 on Friday, the Lions' distance runner became the first male athlete from his school to reach regional competition.
"Before the race, it was nothing but nerves. During the race, it was nothing but nerves," Sharo said. "Getting to the line was just a relief. I thanked my coaches for all the faith they put in me."
Heartland Christian — with just 52 students — was the smallest school to travel to Springfield for the Division III district meet. The school began competing in the Ohio High School Athletic Association competition in 2010. Kristen Osborne was the school's first track athlete to go to regionals in 2015 in the 400.
"I'm just so excited for Sebastian. He's a great kid who works really hard and we knew he had a shot," Lions coach Brian Grant said. "He would have to run really well and he went out there and ran his race and set a new school record."
Sharo's running career had a rough start. Coming into high school, he developed an abnormal bone growth in his femur that had to be surgically removed. He also had no distance running experience to speak of.
"The first day of practice [for cross country] was the first day that I was allowed to run," Sharo said. "In track, we did a three-mile run and I thought it would be the death of me, but I ended up in the lead for it."
Sharo currently holds the school record for cross country and he's keeping his expectations for the regional tournament at Massillon Perry modest.
"I'm just excited to be able to run there," Sharo said.
For other area athletes, crossing the finish line in first place was a regular occurrence. Jackson-Milton's Michaelina Terranova won the 100 hurdles and 300 hurdles for the second consecutive year. She also helped her 4x100 and 4x200 relay squads make it to regionals.
"I'm finally running with my teammates in regionals," Terranova said. "It's more fun. We have each other and we're always there to pick each other up to run our best. It's more fun than just going by myself."
The hurdles were also a sweep on the boys side by Liberty's Justin Clark, who was also part of the winning 4x400 team.
"It feels great. I won last year and now I come back here and win again," Clark said. "I wanted to show everybody what I'm made of and not leave anything left out."
In team competition, it was all McDonald with the boys team winning its 11th consecutive district title and the girls side winning its sixth straight trophy. The boys had four first-place winners, Zack Dean (3200), Brody Rupe (1600), Zach Gray (discus) and the 4x800 relay squad. Senior Malina Mitchell put in work for the girls team, winning the 800 and 1600 and was part of the winning 4x800 relay.
"To keep that streak going is impressive and it's the kids and their families," McDonald boys coach Lou Domitrovich said. "I'll say that ever since my sisters, Mary and Jeannette, came back to McDonald, it's been huge for the boys and girls. It's a culture, it really is."
More like this from vindy.com