Eynon pitches Tigers to title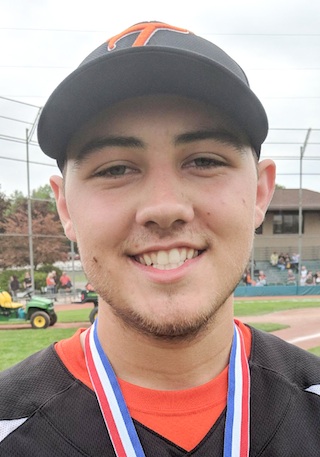 Photo
By Greg Gulas
sports@vindy.com
STRUTHERS
Shane Eynon threw a three-hitter, John Slike roped a three-run double and Brannon Brungard added a run-scoring double to lead Springfield to a 5-1 win over Lowellville in the Division IV district final Friday at Bob Cene Park.
It was the Tigers' first district title since 2013 and first since their return to the Division IV ranks this season.
From 2014-17, Springfield was a Division III entry.
Not being called upon during Thursday's extra inning win over Jackson-Milton and being afforded another day of rest proved to be big when called upon Friday.
"All of the players before us have district titles and this team wanted to be added to that list. An extra day of rest sure helped me out," Eynon said. "Lowellville hits the ball really well and I felt like my fastball and slider were both working well. We have a tremendous defense and when the opponent puts the bat on the ball, I trust them completely."
The Tigers (19-4) got on the board first, taking a 1-0 advantage in the opening inning when Brannon Brungard walked, moved to second on a sacrifice bunt by Jarrett Orbin, stole third and later crossed the plate on a sacrifice fly by Thursday's walk-off hero and winning pitcher, Brandon Walters.
Springfield (18-4) extended its lead to 5-0 with four more runs in the second inning, plating three runs on Slike's bases-clearing double and another on a double by Brungard.
Of their four hits in the inning, three went for extra bases, all of which were doubles.
"It was a 2-2 count and I was actually looking for a curveball," Slike added. "Coach [Terry Dobson] told me just to put it in play, but when I saw it go into the gap I thought it might have a chance to clear the bases.
"Shane had an excellent outing. When he is on, he is tough to beat."
Brungard was looking for a pitch that he could drive to the opposite field.
"He [Anthony Petrovich] was throwing outside to me the entire game," Brungard said.
Eynon, who set down the first nine Rockets he faced, improved to 7-1.
The Tigers defeated Lowellville twice during the regular season.
"Lowellville was a much better team since the last time we met at Cene Park. Again, you're 0-0 against one another come tournament time," Dobson said. "This is my first regional and while it is special, I'm happier for the kids. Shane threw well today, but I honestly feel like we have three or four aces that I can put out on the mound.
"I'm going to give them the weekend off, let them get refocused and then we'll go back at it starting Monday."
Lowellville (12-9) got on the board in the fourth inning, cutting the deficit to 5-1 when Nate Solak's single plated Matt Hvisdak. When Vinnie Kacir tried to score on the play, left fielder Chris Thompson's throw cut him down at the plate to end the inning.
"From the top of the lineup to the to the bottom of the order, Springfield hits the ball really hard. There's no easy out," Rockets head coach Nick Clinkscale said. "We had one bad inning and it proved to be costly. After that second inning, Anthony came to the bench and said no more, then proceeded to shut them down."
Kacir and Dom Layko had the other two hits for the Rockets.
More like this from vindy.com