VINDY EXCLUSIVE : Austintown school board suspends, promotes Kelty
AUSTINTOWN
Kelty documents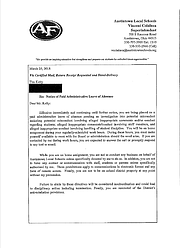 Document
These are among the documents found in Tim Kelty's personnel file, which The Vindicator obtained Friday.
Knives, "sex dice" and profane language are included in the personnel file of newly promoted Austintown Elementary head principal Tim Kelty.
The board of education disciplined Kelty and then promoted him to head principal at the same May 15 meeting.
Don Sherwood, school board president, says the board believes Kelty is a good leader and that corroborated issues will not reoccur.
Kelty's annual salary will remain the same at $84,411.
The board approved paid administrative leave for Kelty, who has been the school's assistant principal, effective March 29 to April 30.
He received notice of paid administrative leave of absence March 29, according to his personnel file.
"Effective immediately and continuing until further notice, you are being placed on a paid administrative leave of absence pending an investigation into potential misconduct including potential misconduct involving alleged inappropriate comments and/or conduct regarding students; alleged inappropriate comments/conduct involving staff members and alleged inappropriate conduct involving handling of student discipline," according to the notice.
Despite Kelty's administrative leave, the board approved amending Kelty's assistant principal position to head principal upon the retirement of acting AES principal Thomas Lenton on June 1.
Among Kelty's alleged offenses:
During the 2015-16 school year, he threatened a second-grade student with a knife when disciplining him in his office, witnessed by a teacher.
During the 2016-17 school year, he "used racial language after leaving a phone message to a parent" despite thinking that he had already hung up.
In September 2017, he issued an out-of-school suspension to a student that was not documented, resulting in an unexcused absence.
In December 2017, he said four fellow staff members should take off their tops and gifted "sex dice" to a teacher at a staff party. Instead of numbers, each face on the die contains the name of a body part or an action.
Also, it is noted several times in Kelty's personnel file, which The Vindicator obtained Friday, that he frequently uses profane language around students, parents and staff and has little involvement in individualized education programs and evaluative reports of students and staff.
Schools Superintendent Vince Colaluca reinforced that Kelty's new position is a "board decision."
"What ever the board of education votes, it is my job to support it," Colaluca said.
The Vindicator reported May 18, 2017, that Kelty was one of a number of administrators who received a contract extension – but his was different.
While most administrators received three-year contract extensions, Kelty received a one-year extension.
Kelty would not comment on the allegations in his personnel file or his recent discipline, referring all questions to Sherwood.
Sherwood said during the interview process for the AES head principal "the board had an independent investigation done to review concerns [about Kelty] and once that was completed the board felt some concerns were corroborated and addressed issues through corrective action."
"The board is confident those similar issues will not reoccur," he continued. "It's been over 11 years that Mr. Kelty has been with district and the board is confident he can lead us on from here."
Sherwood added the decision to give Kelty the head principal position was a 5-0 vote "and the board is confident in knowing Mr. Kelty will foster the best possible educational experience for our kids in the elementary school, and we believe in that."
"I've been with Austintown Local Schools almost my entire life, and right now I am just very honored and very privileged," Kelty told The Vindicator.
"I sincerely mean it when I say I serve Austintown schools. ... It's just a sincere honor."
More like this from vindy.com