NEOMED dean earns 2018 ATHENA Award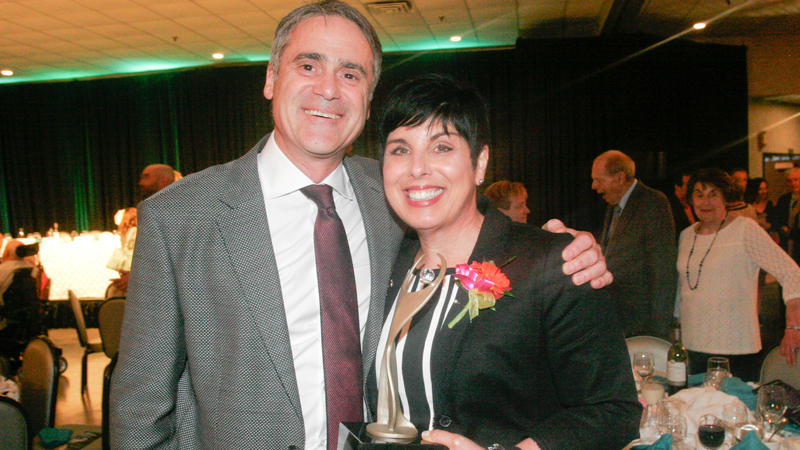 ---
By JORDYN GRZELEWSKI
jgrzelewski@vindy.com
BOARDMAN
Each year, the ATHENA Award honors a woman in the Mahoning Valley who demonstrates the three pillars of professional excellence, community leadership and mentorship.
As a professor, university leader, and supporter of organizations such as the Dorothy Day Homeless Shelter, Dr. Elisabeth Young, vice president for health affairs and dean of the college of medicine at Northeast Ohio Medical University, exemplifies all three.
Young is the recipient of the 2018 ATHENA Award, presented Thursday night by the Youngstown/Warren Regional Chamber and The Vindicator at a ceremony at Mr. Anthony's Banquet Center. The event, now in its 26th year, drew about 500 attendees.
"I, along with the other 20 women being recognized this evening, and all the other amazing women who have come before us, strive not just for professional excellence, but also to be mentors and advisors and friends to those that follow us," Young said in her acceptance speech.
A selection committee comprising business leaders and past ATHENA recipients this year chose among 21 nominees for the award. The nominees included women from varied professions, including lawyers, entrepreneurs, non-profit organization leaders, engineers and educators.
The event's keynote speaker was Dr. Marla Perez-Davis, deputy director of the National Aeronautics and Space Administration's John H. Glenn Research Center.
Perez-Davis began by explaining the theory of the butterfly effect, which says a small change in a complex system – such as the flutter of a butterfly's wings – can later cause larger effects.
In her journey from a small town in Puerto Rico to where she is today, her grandmother and mother were the fluttering wings, she said.
"At an early age, I learned about vision, commitment, following the rules, and the importance of an education - non-negotiable for my mother," she said, noting that her mother worked to earn an associate degree while working and raising three children.
She shared, too, how after coming to the United States to work for NASA, her differences sometimes made her feel like she didn't belong – but she didn't let that stop her from achieving her goals.
"It is not about me. It is about them. Inclusion is a choice – so choose wisely and you will be rewarded," she said.
She left the nominees with some advice – be grateful, find ways to give back, work hard, keep your ego in check, take risks, and, most importantly, she said: "Stay positive."
Young shared some advice for young women, as well.
"We had always been told, 'You can have it all,'" Young said. "And I think that you can, but you're going to have to understand that every day you're prioritizing new things, and it's OK if one day the most important thing is attending to your child's needs and the next day you have something at work to attend to.
"You have to be willing to say, 'I'm not going to do everything with the utmost perfection.' That's got to be OK. I think we have to understand it's about balance, and it's about setting priorities."
Young became vice president for health affairs and dean of the college of medicine at NEOMED in February after serving as interim vice president and dean in 2017. She has been a NEOMED faculty member since 1990, and is the first NEOMED alumnus to serve as the college of medicine's dean.
She is a member of the Bio-Med Science Academy Governing Board and is involved with the American Heart Association and Dorothy Day Homeless Shelter.
She lives in Poland with her husband, Dr. Tom Boniface. The couple have four adult children.
Also at Thursday's event, the 11th ATHENA Scholarship, a $1,500 award created in partnership with the Community Foundation of the Mahoning Valley, was given to Youngstown State University pre-med student Emily Marsico.
Anthem Blue Cross Blue Shield presented two scholarships, each for $1,250, to Springfield High School senior Kate Denmeade and Howland High School senior Lindi DeFrances, both of whom will attend YSU this fall.
More like this from vindy.com