Mooney, West Branch advance after extremely close calls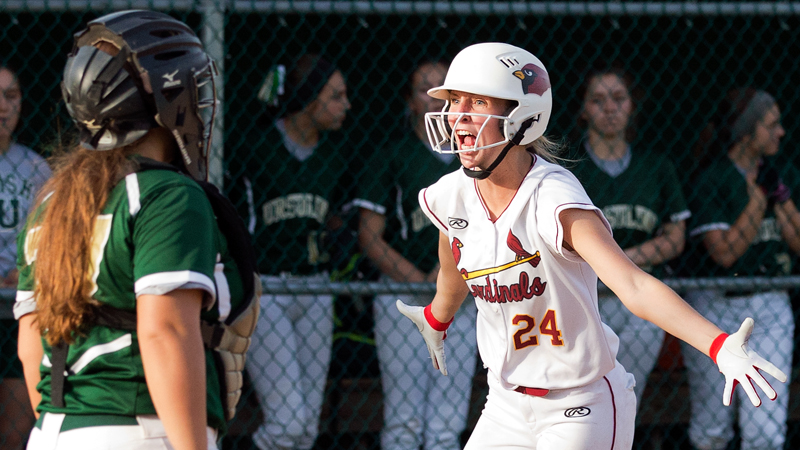 ---
Mooney, West Branch advance after extremely close calls
By Tom Williams
ALLIANCE
With the winning run on third base, Cardinal Mooney sophomore CJ Sapp couldn't wait to swing.
Sapp watched patiently during Ursuline coach Michael Kernan's final mound visit. As consultations go, this one was pretty epic (more on the patience of the men in blue later).
"Tell me about it," the Cardinals third baseman agreed.
One pitch later, Sapp smacked Emma Ericson's offering off third baseman Emily Holland's glove, scoring Kelly Williams with the winning run in Mooney's 5-4 victory in Thursday's Division II semifinal victory at Alliance High School.
The Cardinals (20-2) will play West Branch (22-3) for a regional trip at 5 p.m. today. The Warriors advanced with a 4-3 win over Poland in the other semifinal.
MOONEY-URSULINE
Sapp scored the Cardinals' first run then hit an RBI double in Mooney's three-run fourth, both off Ursuline senior starter Jordyn Kenneally. Sapp also flew out to Kenneally in left field after Ericson took over on the mound.
In the seventh inning, Williams led off with a double and took third on Lauren Frommelt's sacrifice.
"I felt confident, we only had one out," Sapp said of her approach to her final at-bat. "We played a great game, we battled back [from] 4-1."
Sapp led off the first inning with a single and scored on Caitie Perry's infield single that loaded the bases with one out.
The Irish escaped with an unusual double play. Gia DiFabio connected and the ball went to Holland, who threw home to catcher Gia Caldrone to erase Brooke Chandler. DiFabio, saying the ball hit off her foot, made no effort to run to first, believing the play was dead.
After the umpires conferred, the double play was rung up, As expected in the Holy War, words were exchanged and Mooney was given a bench warning. Amazingly, no one was tossed even though one pitch location and a non-timeout ruling later were questioned.
The Irish (21-5) scored all of their runs in the third inning off Mooney senior Kayla Rutherford (12-1). Julia Nutter led off with a homer to left field.
With one out, Macy Ross walked and took third on Marisa Barbato's double. Destiny Goodnight laid down a sacrifice bunt and while Cardinals catcher Conchetta Rinaldi struggled to corral the ball, Ross raced home with the go-ahead run.
Before the hit, Kernan told Ross to go hard if Goodnight put the ball on the ground.
"I saw it go into her hand and drop," Ross said. "It was kind of slow-motion, I just thought, 'go as fast as I could.'"
With two outs Kenneally singled to score Barbato and Goodnight for a 4-1 lead.
The Cardinals tied the game with two-out lightning. Lexi Diaz scored on Sapp's double, then Chandler and Rutherford followed with RBI hits to tie the game.
"To see our kids come up off the deck like that, I'm not surprised," Mooney coach Mark Rinehart said. "Kayla Rutherford kept us in the game with her arm and her bat.
"That's a very good team we beat today."
WEST BRANCH-POLAND
The Bulldogs (17-6), who scored twice in the top of the first inning, stranded five runners in scoring position. Brooke Bobbey doubled and scored on Sarah Boccieri's hit, who then came home on Ally Nittoli's groundout.
The Warriors took the lead in the third inning with their own two-out magic. After Jordan Anderson walked and Grace Heath doubled, they scored on Delaney Rito's hit. Peyton Alazaus brought Rito in with a single.
"They played well," Poland coach Jim Serich said of the Warriors. "They got the two-out hits when they needed them."
In the fourth inning, West Branch coach Sis Woods replaced starter Kylie Coffelt with Kelsey Byers.
"Just instinct," Woods said. "They were timing Kylie up pretty well."
The Warriors scored in the sixth inning after Alazaus singled and scored on Hannah Sprague's sacrifice fly.
In the seventh inning, Jackie Grisdale doubled and pinch-runner Rachel Wolfe scored on Bobbey's groundout.
"We never quit," Serich said. "My girls fought all year like that. [Pitcher Monica Kurjan] did everything she could to keep us in the game."
Boccieri will play for Cleveland State next year. It also was the final varsity game for Kurjan, Payton Slaina and Bella Gajdos.