Lordstown students deliver fun to children's hospital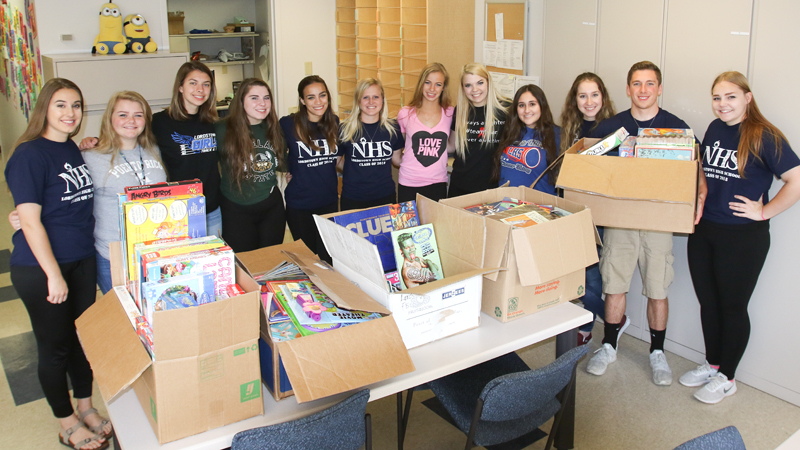 ---
boardman
Lordstown High School students delivered some fun to a local children's hospital.
The senior class, in partnership with the National Honor Society, gathered at Akron Children's Hospital Mahoning Valley's Beeghly Campus on Market Street on Thursday morning with the fruits of a two-week book drive. The result was more than 400 books and puzzles for patients.
"The community and students came together to donate books and board games and puzzles for our senior service project," explained Larissa Zarlengo, senior student. "Just being able to give back to the community is always rewarding."
Senior Lindsey Burns said this particular donation touches the class because of a classmate who is treated at Akron Children's for a blood disorder.
Phil Colucci, history teacher and NHS adviser, said it's just nice to see his students work toward something that helps others.
"We just have great kids," he said simply.
Barbara Maxim, Akron Children's volunteer, of Canfield, was touched by the experience on behalf of both the students and the Akron Children's patients.
"It's just great," she said. "It's great for the students to learn about being with children, and great for children to learn to maybe not be afraid of doctors and these students."
The patients, however, may benefit the most.
"They absolutely love getting toys and such from the students," said Jamie DeMain, Akron Children's volunteer supervisor. "It's worth it just seeing their smiles and the joy that it brings to them."
This is the second-consecutive year students participated in the Senior Service Day.
Schools Superintendent Terry Armstrong said he has nothing but pride for his students.
"We have great kids, and it is a testament to them that they always are willing to help others," Armstrong said. "We are very proud of them and their efforts."
More like this from vindy.com