Library offers French lessons to community
---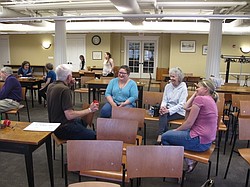 Photo
Neighbors | Zack Shively.The French lesson at the library received nine attendees with a range of ages. Instructor Ron Saffell created the lesson for a younger audience, but he adapted it for his older audience. Saffell plans to continue the lessons weekly until June 4.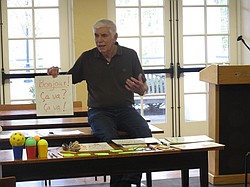 Photo
Neighbors | Zack Shively.Retired teacher Ron Saffell taught a French lesson at the Poland library on May 7. He went over common phrases and basic language lessons. Pictured, Saffell taught the group how to say "Hello" and "How are you?"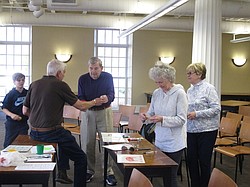 Photo
Neighbors | Zack Shively.Ron Saffell organized a couple activities for the group to do. Both activities taught the attendees to identify different object in French. One of the activities had the group split into pairs and have polite, brief conversations in French.
By ZACK SHIVELY
The Poland library invited members of the community to their meeting room for lessons in speaking French on May 7.
Retired teacher Ron Saffell taught the lesson on the basics of the French language. The event received nine people of different ages in attendance.
Saffell based his lesson on a younger audience but managed to do adapt his lesson well for an audience of adults and a couple younger students. He wanted to give them an introduction course to the basics of the language with a focus on survival skills in a French speaking country. He also gave a crash course into politeness and courtesy when talking to people.
He opened with a greeting in French and then broke down the pronunciation of the word "bonjour," which means hello. He said the pronunciation letter-by-letter for the attendees. He then had the group recite the numbers from 1-10.
Following that, they worked on word order and the gender of objects. In French, adjectives always follow the object and each object has a different ending depending on whether it is a masculine or feminine word.
The group participated in an activity where they grabbed different items that Saffell placed around the room.
They gave them back to Saffell and said each object with proper pronunciation in French. They then learned how to present the objects to each other and take them in a polite fashion.
They also worked on saying phrases for basic survival, such as "Where is the bathroom?" and "how do I get to..." They learned left and right as well as the days of the week. They ended the lesson with a small conversation in French amongst themselves.
Safell has the lessons planned for each Monday at the library until June 4. He chose the library because he considers it a community center. Saffell continues substitute teaching at schools in the community and through programs such as this one.
More like this from vindy.com