High honors for veterans and citizens from the UVC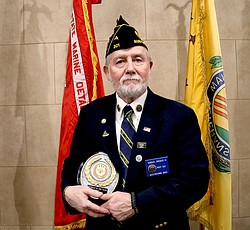 Photo
Neighbors | Submitted.Sam Swoger III was awarded the Veteran of the Year award at the United Veterans Council of Greater Youngstown and Its Environs annual Recognition and Awards Banquet on April 6.
The United Veterans Council of Greater Youngstown and Its Environs hosted its annual Recognition and Awards Banquet on April 6 at Immaculate Heart of Mary Parrish Center in Austintown.
Mark Capone, Assistant Director of the Ohio Department of Veteran Services was the guest speaker. Several individuals were honored in front of a full room of veterans, community members and guests. All of the awardees were nominated by individuals and posts in the UVC.
Recognized as Veteran of the Year was Samuel Swoger III of Austintown. His accomplishments include holding several leadership positions in local and regional veteran organizations. During his time of service, Swoger's military commendations include the National Defense Ribbon, Good Conduct Ribbon, Presidential Unit Citation, Quick Readiness Alert Badge, Pershing Missile Air Defense, Expert Rifle Badge and Sharpshooter M-60 Badge.
Upon his discharge, Swoger worked at General Motors in Lordstown, retiring after 30 years. While there, he served as an Alternate Committeeman on various committees, and Chairman of the UAW Veterans' Committee for 19 years. In that capacity, he designed and oversaw the installation of a Veterans Wall within the GM plant. He was also appointed UAW Region 2-B Veterans Representative, National UAW for 26 years, a position he still holds today.
He is a two-term Past Commander of the United Veterans Council, Commander of American Legion Post 301 in Austintown, Past 2nd Vice Commander American Legion District 9, American Legion Department of Ohio Adjutant, Catholic War Veterans Post 1292, Youngstown Veterans Court Mentor, member of Youngstown Air Reserve Base Community Council, and a member of AMVETS Post 44 and DAV Chapter 2. Healso organizes the Austintown Memorial Day Parade and Ceremony, and through American Legion Post 301 oversees programs for second and fifth grades promoting patriotism, flag history and respect for Veterans. Finally, he serves as co-chairman with Pat Connolly for the annual 9-11 Memorial Service. He resides in Austintown.
The Citizen of the Year is Andrew Hake of McDonald, who is a teacher and coach at Western Reserve Schools. Hake is the recipient of the 2018 Veterans of Foreign Wars "Teacher of the Year" Award for the entire state of Ohio.
A new category was started in recent years for a Youth of the Year. This award is presented to a youth who is dedicated to honor, service, courage, leadership and patriotism. The Youth of the Year for this year is not given to just one person, but to Tte Buckeye Bunny Bunch and the Mahoning County Barnstormers are area 4-H clubs. Joining their project was also the Western Reserve Rangers. They came together to establish Wreaths for Veterans in 2016 as a non-profit. Since it began in 2016, they have placed more than 600 wreaths in Ellsworth Township and Berlin Township. The organization started with the thought that it would only be a small community service project for the 4H clubs, but since realized people and other groups want to join the effort. In 2018, the groups will be adding two cemeteries to the list and in 2019 will be adding one more. Wreaths for Veterans are projecting that by 2019 they will be placing at least 1,200 wreaths every year.
Receiving a special award for his lifetime service as a Veteran was the Honorable Robert P. Milich. He was able to help other veterans through is position by establishing the Youngstown Municipal Veterans Treatment Court. When it began, it was one of only a few in the nation to offer specialized services including addiction rehabilitation and mental health treatment for military veterans charged with nonviolent misdemeanors and has become the model for all Veterans Treatment Courts in the state of Ohio.
Milich has been involved with a number of military and other organizations, including serving as secretary of the Youngstown Air Reserve Base Community Council and former national president of the Society of Air Force Reserve Medical Service Corps Officers. He is a member of Veteran groups: Reserve Officers Association, Military Officers Association, Catholic War Vets, AMVETS, American Legion, Air Force Association, VFW. He has served as a past president of the Western Reserve Transit Authority, past national president of the Society of Air Force Reserve Medical Service Corps Officers and the past vice president of the Akron Law School Alumni Association.
Presenting the awards were United Veterans Commander Jennifer Baun, Susan Krawchyk, Executive Director of the Mahoning County Veteran Service Commission, and Mahoning County Commissioner, Carol Rimedio-Righetti. Each recipient received special plaques, a resolution from the Ohio Senate provided by Sen. Joe Schiavoni, and a resolution provided by the Mahoning County Commissioners.
More like this from vindy.com