Clutch hit helps Cards Cruz into final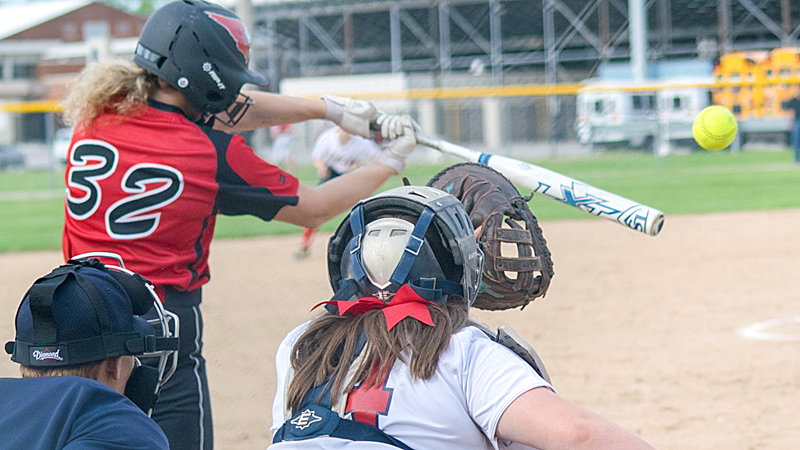 ---
By BOB ETTINGER
SOLON
Chloe Cruz has been there. This time, however, felt a little different for the Canfield senior. The Cardinals' catcher delivered a two-out base hit to plate the winning run in a 3-2 victory over Austintown Fitch in a Division I district semifinal in Solon on Wednesday afternoon.
"I've been in pressure situations a few times," Cruz said. "I've never felt that pressure. If you lose [today], you go home. If you lose in travel ball, you come back and play next week. I feel I handled it pretty well. I was down two strikes looking. I wasn't happy with the calls. I was just thinking about line drives."
Mary Gomez reached on an error with one out in the home half of the seventh and Lauren Fitzgerald was hit by a pitch. A sacrifice bunt from Brooke Crissman moved the runners to second and third with two outs.
"With the batters we had up, I wanted those two runners in scoring position with the bunt from Brooke," Canfield coach Ray Melewski said. "Right person, right time."
Cruz blooped a single to shallow right to score Gomez from third for the win.
"Two outs, a runner on third," Cruz said. "That's probably the biggest pressure situation. And the game was tied. I felt butterflies in my stomach. I was thinking about hitting a line drive, evoun though I had struggled my last few at-bats. I was nervous. It was insane. I saw it go up and I thought it was too high. I thought she'd catch it. Then I saw it go under her glove and I knew we won the game. It was just so exciting. I was rounding first and I was running. I jumped into [pitcher] KaiLi's [Gross] arms."
The top-seeded Cardinals (18-8) will play the Nordonia-Aurora winner in the district final at 4:30 p.m. today.
"For a team to win today, I thought they had to play error-free softball," Melewski said. "We made three errors and came out with the win. We've got to do that tomorrow, too. Every team is good now."
The Falcons (13-10) had runners on first and second with one out in the top half of the seventh, but Gross got a pair of popups to end the threat.
"There's a reason they're the defending district champs for the last two or three years and they've been here, I think, six times in a row," Fitch coach Steven Ward said. "They know how to get timely hits. [Cruz] stuck the bat out and we were about a foot away from making the play. I'm very proud of the effort. We just came up a little short."
Gross had surrendered a pair of runs in the top of the third, but kept the slate clean over the final four innings. She struck out five, walked four and allowed four hits.
Fitch used a leadoff homer from Lydia Spalding and an RBI single from Kacie Roth to take a 2-0 lead in the third.
"We made better contact earlier," Ward said. "I thought our approach was good throughout the game. We just tried to make things happen instead of letting them happen. They're all fighters and they were up there swinging. We just couldn't get a base hit when we needed it."
The Cardinals tied it at 2 in the fifth behind a sacrifice fly from Fitzgerald and an RBI single from Crissman.
Spalding allowed five hits, struck out five and walked three in the loss.
More like this from vindy.com