Girard Officer Justin Leo honored in DC ceremony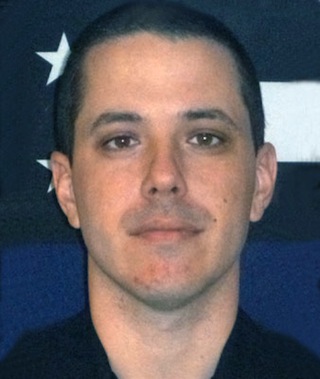 Photo
Staff report
WASHINGTON
David and Pat Leo, parents of Girard Police Officer Justin Leo, attended the National Law Enforcement Officers Memorial Ceremony on Tuesday in the nation's capital along with police Chief John Norman and officers from Girard, Liberty and the Trumbull County Sheriff's Office.
Leo was killed in the line of duty when he answered a domestic-violence call last October.
He was honored along with five Ohio police officers and a canine officer at the ceremony.
"We are so proud of him," David Leo said. "We love him and miss him. I can't tell you how many times in the last couple days I see something and I can't wait to tell Justin about it and then it comes back and hits you."
President Donald Trump and Vice President Mike Pence gave a speech to a crowd on Capitol Hill, and each slain police officer's name was called. Each officer's family placed a red carnation on a wreath as their names were called.
The wreath was taken to the National Law Enforcement Officers Memorial wall, centered in the 400 block of E Street Northwest, which now has Justin Leo's name engraved along with other officers nationwide who were killed in the line of duty.
David Leo said they were surrounded by other families during the ceremony who recently lost their loved ones.
"The president gave a powerful speech today, regardless of your politics," he said. "We were sitting 25 yards from him. As a parent, it feels good to know they care. I would feel good if I was in law enforcement knowing the president and attorney general support police significantly."
The Ohio Fraternal Order of Police also gave the Leo family medals in Justin's honor.
The Leos also attended a candlelight vigil Sunday.
On Thursday, David Leo will award four Girard students with the first Officer Justin Leo Memorial Scholarship.
More like this from vindy.com