Lordstown council sets June 16 for public meeting on TJX zone changes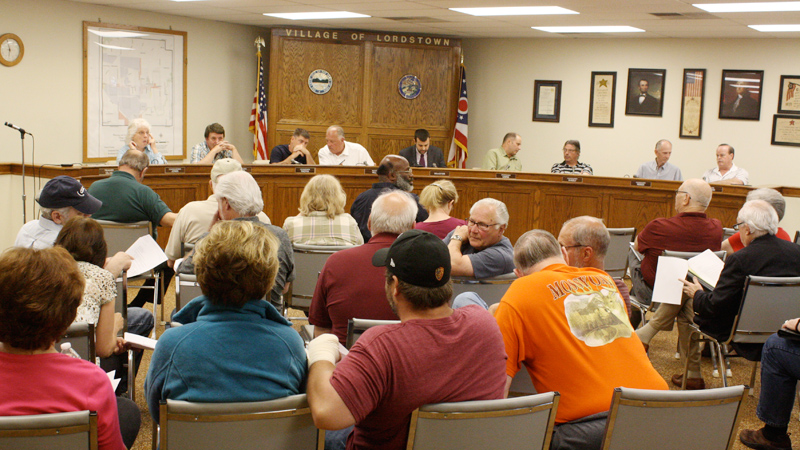 ---
By Ed Runyan
LORDSTOWN
Village council will have a public hearing and first reading on legislation regarding approval or denial of a zone change requested by HomeGoods Inc./TJX Companies for a distribution center project at 11 a.m. June 16.
On Tuesday night, council had a special meeting to read a letter from the Lords-town Planning Commission recommending council approve zoning changes for seven parcels of land related to the multimillion-dollar project.
Lordstown Mayor Arno Hill said the public hearing and first reading will be in Village Hall.
Council members Bob Bond and Karen Jones wanted to allow the roughly 30 people present to have the opportunity to talk to council about the project, but council voted 4-2 against allowing public comments.
The meeting only served the one purpose – reading the letter – but it was necessary so the village clerk can advertise the public hearing in the local newspaper, Hill said.
That is necessary so all the steps can be taken in time to meet deadlines for the matter to go on the Nov. 6 general election ballot if citizens choose to put the matter to a public vote if council approves the zone changes, Hill said.
On May 8, the zoning commission approved rezoning 290 acres from residential to industrial HomeGoods needs to build a $160 million, 1.2-million-square-foot distribution center at Ellsworth Bailey and Hallock Young roads.
The warehouse is expected to employ 1,000 people within five years.
The project drew opposition from some residents. They were not opposed to the project but didn't believe it should be allowed at the proposed site.
Hill said there will be public comments at the June 16 public hearing and special council meeting and two more special council meetings on the legislation.
The process needs to be wrapped up 90 days before the Nov. 6 general election to meet board of elections deadlines, Hill said.
In April, opponents of the rezoning threatened to circulate petitions and try to have the matter placed on the ballot as a referendum.
The outcry caused HomeGoods to back away from the project. But a show of support or more than 600 people after a rally late last month caused the company to reconsider locating in the village.
The company said it selected the site because it has easy access to the Ohio Turnpike exit in Lordstown, making it convenient to serve 300 stores in the region. HomeGoods is a division of TJX, which owns TJ Maxx, HomeGoods and Marshalls.
More like this from vindy.com