Local gem serving Italian-American cuisine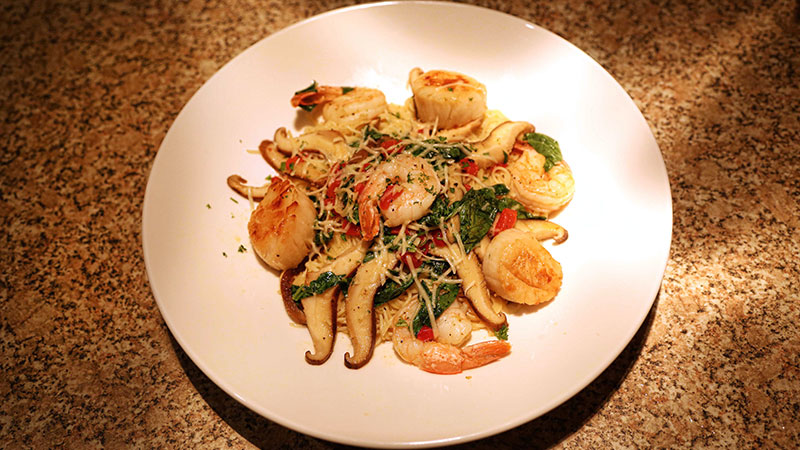 ---
If you go
What: Enzo's Restaurant and Lounge
Where: 2918 Elm Road NE Warren
Hours: Tuesdays through Fridays, 11 a.m. to 9 p.m.;Saturdays noon to 9 p.m.; Closed Sundays and Mondays
Phone: 330-372-3314
Website: www.enzosofwarren.com
By REBECCA S. NIEMINEN
WARREN
Back in the 1970s, Italian immigrants Enzo and Lina Cantalamessa opened a mom-and-pop pizza shop showcasing their Old World culinary skills.
Fast forward decades later, and that humble eatery has grown into Enzo's Restaurant and Lounge, a local gem serving first-rate Italian-American cuisine.
"We pride ourselves on consistently serving quality food that is prepared fresh," said Enzo C. Cantalamessa, son of Lina and the late Enzo Sr. He and his brother, Mauro Cantalamessa, along with Lina, operate the restaurant. During my visit, they made me feel right at home, and I was impressed by the quality fare and the friendly, accommodating atmosphere.
"We are a family-friendly place with a loyal following from Trumbull and Mahoning counties," Enzo said. "Many of our recipes are old family recipes, and we also have two chefs who develop their own creations."
My taste buds rejoiced at the opportunity to sample some of the restaurant's most popular dishes.
First to arrive at my table was a bruschetta appetizer ($7). This favorite features scrumptious slices of Italian bread generously topped with diced tomatoes, basil and Romano cheese and then grilled to perfection. For me, the texture of the bread is what makes or breaks a serving of bruschetta. Enzo's bread is lightly crisp yet still soft, earning it a perfect score in my book.
Other well-received Enzo's appetizers include clams casino ($13), fried Italian greens ($9), fried mozzarella sticks ($8) and fried calamari ($10).
The next item to please my taste buds was Enzo's famous wedding soup. ($4 per cup, $5 per bowl) There are many variations to this Italian staple, but Enzo's has hit the bullseye of deliciousness with their blend of fresh spinach, mini meatballs, egg, celery, onion and a chicken-stock broth.
"This is my mom's recipe," Enzo said. "The different variations of the soup often depend on the region in Italy your family came from. Her family came from Southern Italy."
Speaking of Italian terrain, many times, people are more apt to associate pizza and pasta with Italian cooking than seafood. This would be a mistake, however, since there are so many amazing Italian seafood dishes.
Enzo's serves a fantastic shrimp and scallop agile olio ($22) that's as beautiful to behold as it is to taste. Shrimp, sea scallops and thinly sliced shiitake mushrooms are artfully arranged on a bed of angel hair pasta that's been tossed with garlic and olive oil. Since I am a seafood lover, this was one of my personal favorites, and I will definitely be ordering it the next time I visit. Enzo said it's mainly a Friday and Saturday night special, but the chefs will prepare it other days of the week if the ingredients are available.
Any Italian restaurant worth its salt can serve up a mean chicken parmigiana ($22), and Enzo's definitely delivers. Their boneless, breaded, deep-fried chicken breast is topped with mozzarella and their signature sauce. That spectacular sauce is yet another family recipe. Enzo said they have been investigating the possibility of selling their sauce at local grocery stores.
"We do sell our sauce here by the quart and the pint," he said. "Around the holidays, people tend to buy a lot of it."
The chicken parmigiana has earned a spot on the menu as one of Enzo's most popular selling dishes. The other two top-sellers are the eggplant parmigiana ($16) and the veal parmigiana ($16).
If pasta is your go-to at an Italian restaurant, then you simply must try Enzo's tortellini Alfredo ($17). Popular as an entr e or a side, this dish features tortellini filled with veal (or beef and pork) and smothered in a deliciously creamy Alfredo sauce. It's a definite standout and was my preferred favorite after the shrimp and scallop agile olio.
The tortellini Alfredo also pairs very nicely with Enzo's chicken Marsala ($18), which features a boneless chicken breast saut ed with Crimini mushrooms and Marsala wine.
Enzo's entrees are divided into the following categories: Pasta; chicken and veal specialities; steaks, chops and seafood; sandwiches; and pizza.
"Since we started out as a pizza place, many people still come here for our pizza, but we are also a place where patrons can order an elegant meal that would be just as good as any other classy restaurant in this area," Enzo said, adding, "However, we are not a stuffy place. You can dress casual here, and kids are welcome."
I concluded my visit to Enzo's with a decadent slice of Tiramisu ($7). Other dessert items include cheesecake with strawberries and homemade cakes available as specials.
Enzo's also features a full bar and a banquet center that seats 350 people.
"We host many large events – weddings, graduations and showers," Enzo said.
In addition to operating the restaurant, Enzo serves as the director of service and safety for the city of Warren, and his brother Mauro is a Trumbull County commissioner.
More like this from vindy.com