Massillon ends Fitch's baseball season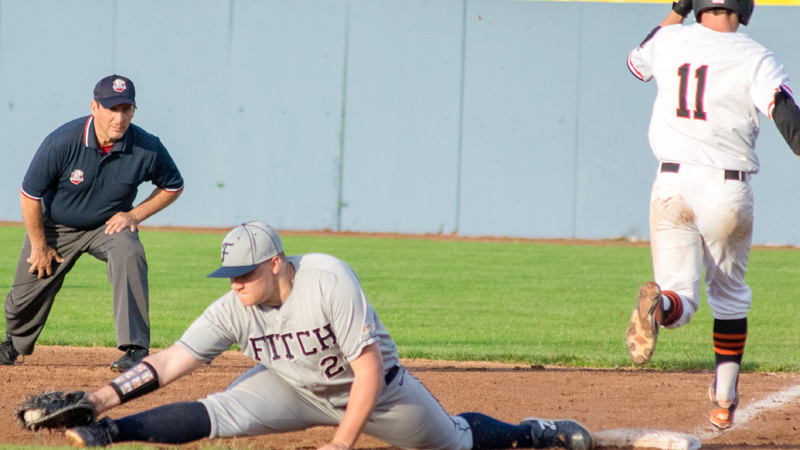 ---
By BOB ETTINGER
sports@vindy.com
CANTON
The Austintown Fitch High School baseball team has had innings get out of control before.
Rarely, did they hurt the way Monday's six-run third inning ignited Massillon to a 7-2 victory in a Division I district semifinal at Thurman Munson Memorial Stadium.
"That's happened to us a couple of times this year," Fitch coach Joe Paris said. "We have to stick together.
"When one mistake happens, it snowballs on us at times," Paris said. "Credit [Massillon]. They put the ball in play. They bunted, slapped and ran. We didn't execute. Simple as that. We made two errors we don't usually make. We had to play from behind the entire game."
The loss leaves a sour taste for the Falcons (18-8).
"It's tough," Fitch senior Cam Burton said. "It's hard to live with.
"If we didn't commit those errors at the beginning, this game could've been ours," Burton said. "It's a tough one to swallow."
Massillon scored six runs on just two hits and used four Fitch errors to go up, 7-0, through three.
"Our goal is to put pressure on the defense and force it to make plays," Massillon manager Spike Ridgley said. "We want them to throw the ball under pressure.
"We also like to move the defense with bunts and slashes. We want to put pressure on the defense and execute in the short game. There are spots we let them swing away, too."
Massillon lefty Aidan Longwell kept that lead using his defense.
"He was in and out, up and down," Paris said. "He hit his spots and was ahead to all the hitters. We hit the ball all day, but they played defense behind him."
Longwell allowed two runs on six hits. He struck out six and walked two.
Carter Burick singled and later scored on a single by Nate Welton for the Tigers' lone earned run in the bottom half of the second.
Fitch plated two in the seventh after Nick Bianco singled and scored Robby Russo reached on a fielder's choice and pinch runner Cole Constance scored on Burton's double.
Burton doubled twice in the contest and Kole Klasic singled and doubled for the Falcons.
"His fastball was straight and flat," Burton said. "I was sitting on the fastball. I got two of them down the middle of the plate and just tried to put the best swing I could on them."
Nick Belcik worked three and two thirds of scoreless ball in relief of starter Kenny Misik. He allowed two hits, struck out two and walked one. Misik fanned three and allowed seven runs — one earned — on six hits. He walked one.
The Tigers (20-4), seeded second, will play top-seeded and defending state champion Massillon Jackson in the district championship game today at 5 p.m.
More like this from vindy.com