City could face $16M deficit by 2023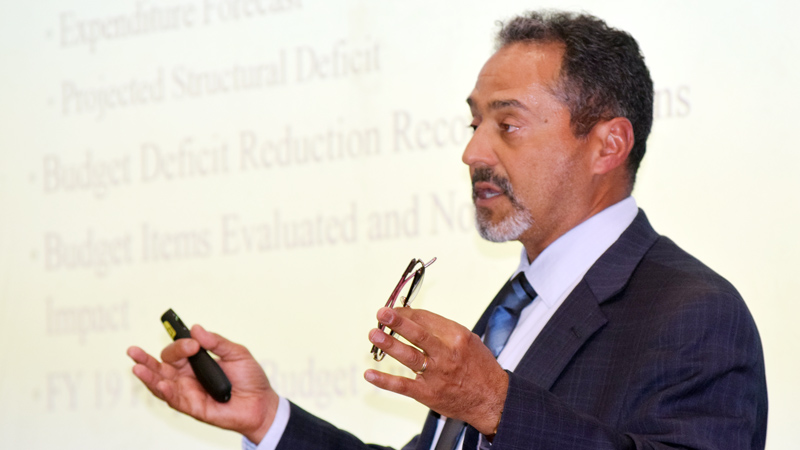 ---
By DAVID SKOLNICK
skolnick@vindy.com
YOUNGSTOWN
If the city doesn't make changes to its financial situation, it will face a $16 million deficit by 2023, according to a forecast given by a CPA hired by the Mayor Jamael Tito Brown administration.
The Monday presentation from Michael Abouserhal, the city's financial consultant and a former Ohio Lottery Commission executive director, made several recommendations – including employee furloughs, elimination of raises, increasing their health insurance premium contributions and layoffs – to avoid the deficit.
"If decisions are not made, the city could end up in fiscal emergency," he said. "You need to focus on the deficit as quickly as possible."
Those decisions must be made to address the deficit before it gets too large and the state declares a fiscal watch, caution or emergency, he said.
The recommendations made by Abouserhal include asking employees to forgo salary increases for 2019 and 2020 – for most, that's 1 percent and 1.5 percent, respectively – to save about $700,000 annually as well as implementing mandatory furlough days, increasing the employees' contribution to health insurance premiums from 10 percent to 20 percent to save about $900,000 annually, reducing overtime, eliminating pension pick-up for newly-hired employees and reduce it for existing workers, possibly selling or closing the Henry Stambaugh Golf Course, potentially reducing external consulting services provided to the city's engineering department, and cutting staff – particularly in the fire department and the clerk of courts/municipal courts, where as many as 20 and 30 employees, respectively, could be eliminated.
"These are very difficult to implement and are subject to negotiations," Abouserhal said. "Tough decisions need to be made. But they have to be considered based on the potential financial situation of the city."
These cuts are for the city's general fund and funds that get their money through the general fund such as police, fire and street construction. Most of the money for these funds come from the city's 2.75 percent income tax and business-profit tax.
This does not include the water, wastewater and sanitary budgets which each have surpluses and get their money through water, sewer and sanitation fees, respectively. These surpluses cannot be used to shore up the general fund.
The city's revenues are flat while its expenditures continue to increase, Abouserhal said.
There are some potential options to increase revenues, but the key to keeping the city out of deficit is to reduce costs, Abouserhal said.
Among some possible ways to increase income, he said, including an income-tax amnesty program; raise the fee for bulk garbage collection; look at raising the amounts charged for licenses and permits as well as evaluate fees that are currently waived; create sponsorship and naming rights for the city; and pursue a new leasing partner for a building on Salt Springs Road that used to be occupied by AT&T that brought in $500,000 in rent annually.
Abouserhal also gave a timeline as to when the administration should work with the unions on concessions.
He recommended meeting with union leaders immediately with a decision coming at the end of June. The focus, he said, should be on long-term fringe benefits and concessions, specifically on health insurance premium contributions, wage changes and pension reductions.
If discussions are unsuccessful, Abouserhal recommends the city make a decision by Aug. 30 on layoffs with each department evaluated for possible staff reductions, again with a focus on fire and court operations.
"We've got to work together with all the departments," Brown said. "It's not going to be an easy job to convince people to give back, but our employees know the situation we're in."
The city was able to balance its 2018 budget with a $12,000 expected surplus after initially having a projected $2.3 million deficit. City officials made a number of cuts and used one-time revenues to largely make up the shortfall.
Councilwoman Lauren McNally, D-5th, said she was "not surprised by [Abouserhal's] findings and recommendations. We need to take some real action here. We have to ask our employees to make concessions."
Councilman Mike Ray, D-4th, said the city has "juggled our finances for years. There's nobody better at bailing water than us. We've kept the ship afloat. But we have to address these structural issues while making sure we compensate our employees fairly."
More like this from vindy.com