Special Olympics has ninth annual track meet in Girard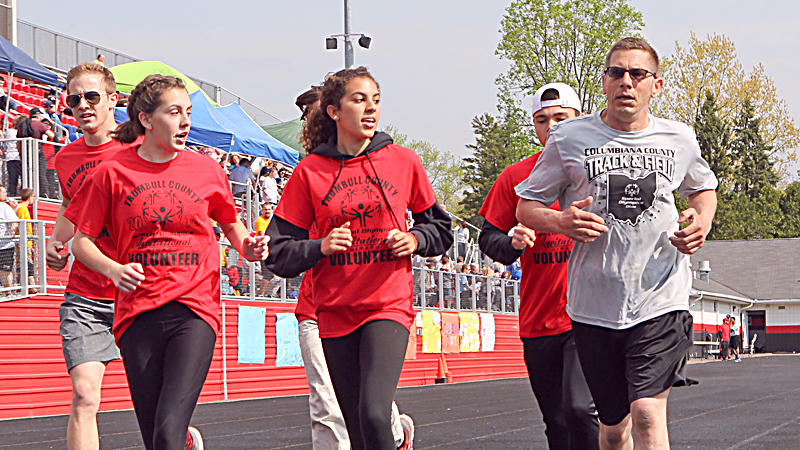 ---
By Bob Jackson
news@vindy.com
GIRARD
If you want to know where Jared Ausnehmer gets his inspiration as an athlete, just take a look at his shoes.
He got his glittery, gold running shoes from a thrift store because he liked the way they look. But when he later had them adorned with autographs from some of his favorite Pittsburgh Steeler football players, his footwear took on a whole new meaning.
"I've been a Steelers fan ever since I was in diapers," the 24-year-old from North Lima said. "I respect those guys."
Jared was one of nearly 300 athletes who participated Saturday in the Special Olympics 9th Annual Trumbull County Invitational track meet at Arrowhead Stadium in Girard. He smiled broadly as he talked about the autographs he sports on his shoes, from players including wide receiver Antonio Brown and former safety Mike Mitchell, who is currently a free agent after playing three seasons with the Black and Gold.
But the one of which he seems most proud is linebacker Ryan Shazier, an Ohio State University product who suffered a season-ending spinal injury Dec. 4, 2017, during a Monday Night Football game against the Cincinnati Bengals. Shazier will not play in 2018, but has said he hopes to heal enough to play next year.
"Gotta give a shout out to him because of what happened to him, being in a wheelchair and everything," Jared said between events Saturday. "He's an inspiration to me, and I hope I can be an inspiration to him."
Jared said he attends the Steelers training camp each year in Latrobe, Pa., which is where he snagged the autographs. His signature shoes help propel him to do his best on the track. Saturday, he placed second in the 100-meter dash with a personal-best time of 15.03 seconds. He was also hoping for a medal in his other event, the running long jump.
"I wish I was like those guys [from the Steelers], but unfortunately that's not the case," Jared said as he waited for the long jump to begin. "But I still give it everything I've got, just like they do."
Doug Berdine, a volunteer coach for the Columbiana County Special Olympics team, said stories like Jared's are what makes the Special Olympics so, well, special.
"Seeing the looks on their faces when they cross the finish line," Berdine said. "That's what it's all about."
Berdine said he tried last year to persuade a young man to participate in the Special Olympics, but the man "wouldn't do anything." Undaunted, Berdine persisted, and the young man was on the field Saturday for the first time.
"He did his event and he earned his first medal," Berdine said. "The look on his face ... you can't replace that. It's indescribable. There's no place I'd rather be on this Saturday morning."
Berdine said a good showing at the Trumbull County meet is especially satisfying for the athletes because it's so large and well-run.
Bo Greene, the local coordinator and coach of the Trumbull County/Fairhaven Special Olympics, said that's a testament to the support shown by the Girard community.
"Girard is just fantastic for the way they show up and the support they show," Greene said, noting that more than 200 people, many of whom were high-school students, volunteered during the event.
The volunteers included "huggers," who met each athlete at the finish line with a hug, then escorted him or her to the podium to receive a medal.
"The way our kids interact with the athletes is just so special and unbelievable," said Nick Cochran, athletic director and activities coordinator for Girard schools.
The Special Olympics mission is to provide year-round sports training and athletic competition in a variety of Olympic-type sports for children and adults with disabilities, giving them opportunities to develop physical fitness, demonstrate courage, experience joy and participate in sharing of gifts, skills and friendships with their families and other Special Olympics athletes and the community.
Events included races specifically for athletes who use wheelchairs and walking races for those who are unable to run.
More like this from vindy.com