Devoted son appreciates sacrifices of his Chilean-born mother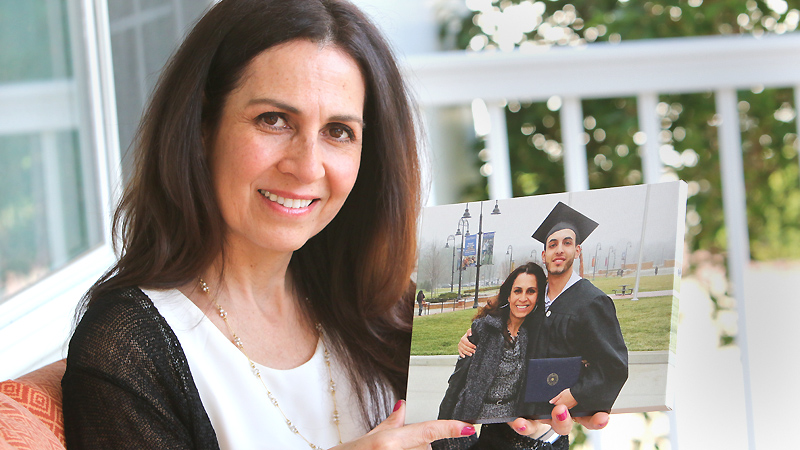 ---
By SAMANTHA PHILLIPS
sphillips@vindy.com
YOUNGSTOWN
As a broadcast journalist for the Television Nacional de Chile and a foreign correspondent for the U.S. Spanish-speaking station Univision, Paulina Montaldo decided to seek a less-demanding job so she could spend more time with her son.
During a trip to New York City, she decided to relocate from Chile to the United States and hatched a plan to stay with the family that hosted her when she was a high-school foreign exchange student in New Castle, Pa.
Montaldo wanted her son, Andres Solano, to experience a new culture and become bilingual.
"I always thought it was important for my son to learn a second language because I thought it would give him the chance to get a better job and better quality of life," she said. "I always liked it here. I never had second thoughts about coming."
Seventeen years later, Montaldo teaches Spanish at Ursuline High School and Youngstown State University and gives students a taste of Hispanic culture through community events.
For the past four years, Montaldo has organized an event for the community at Ursuline High school called Fiesta de Las Americas, which features Hispanic food, music and dancing. This year, 650 people attended.
"It's my way to expose people to diversity. When you learn about different cultures, you learn to respect each other and live in harmony," she said.
Her son is grateful that she moved here.
"She did everything in her power to make sure I had the best life I possibly could, the best opportunities I could," Solano said.
BUSY CAREER
Montaldo was born in Santiago, Chile. As a teenager, she worked for a popular broadcast station. That job inspired her to earn her journalism degree in Ecuador, where her son Solano was born.
She worked for the national broadcasting stations Television Nacional de Chile and Teleamazonas in Ecuador and Univision for almost 20 years, and interviewed prominent people there. She was even selected one year to be the emcee for the International Federation of Television Archives award show in Austria.
The hardest part about relocating to the U.S. was leaving family in Chile, but she still sees them every year.
"My mother was, and still is my biggest support. We keep in close touch and talk on the phone every day," she said.
Solano, who was 9 at the time, was excited to move. The young NBA fan wanted to be closer to his hero, basketball star Michael Jordan. He knew a little about U.S. culture from trips to the United States to visit his grandfather in Miami and from watching U.S. television shows.
The family went from living in a small apartment in Chile's capital city, Santiago, to a large house with a yard in New Castle, a small city. Solano said Santiago is about the size of Chicago, with twice the population, so all he knew was city life — pollution and people always hustling and bustling.
Solano adjusted to his new life in a quiet town, and he learned English with the help of his mother and neighborhood friends. These friends "Americanized" him, he said, and played sports with him.
While Montaldo yearned to work behind-the-scenes for a local broadcast station, her application wasn't accepted.
So, she got a different job and enrolled in Geneva College in Pennsylvania, earned her master's degree in Higher Education Administration with a concentration in college teaching and became a Spanish teacher.
As Solano progressed through school, Montaldo and Solano continued to renew their visas. When they realized they didn't want to leave, they went through the naturalization process and became U.S. citizens.
DEVOTED MOM
Solano, who is now a parent, is grateful for the sacrifices his mother made for him. He recalled that every day she cooked, cleaned and spent time with him after work and school, and then studied textbooks that weren't her primary language for a couple of hours.
"She has always been an extremely devoted, giving parent to me. I look back, and it's honestly incredible, the sacrifices she made," he said.
Montaldo had to be his mother and father, he said.
When he began to doubt himself in college, she pushed him to get through it, and reminded him that they moved so he could have a good job and take care of himself.
"Now, things are starting to come full circle because I understand the reality of what it is to be a parent, all the challenges that go into it," he said.
Looking back, Montaldo describes motherhood as having endless love and always being there for another person.
"I think motherhood is a blessing," she said. "It's hard to explain the feeling. It changes your life forever. Nobody can take that away."
She is filled with pride for her son, and said he is a responsible, generous man.
"I always taught him to go to bed knowing you did something good for someone," she said.
Montaldo is also a proud grandmother to 2-year-old Lyla, with whom she loves to dance.
When Solano moved out for college, Montaldo found herself in an empty house for the first time in her life. In South America, children typically stay in their parents' house longer, she said.
Solano's remedy was to get her a cocker spaniel named Bella Maria, who quickly became Montaldo's beloved companion.
Solano now works at Lubrizol in Cleveland.
Montaldo lives in Poland with Bella Maria, and on top of teaching, she also models and performs traditional dances for organizations such as the Organizacion Civica y Cultural Hispana Americana, a Youngstown-based Hispanic civic group.
She loves teaching but would like to get back in the news industry some day.
More like this from vindy.com