2 of Warren woman's 12 children share fond memories of mother
By SAMANTHA PHILLIPS
sphillips@vindy.com
WARREN
Stephanie McKnight, the second-oldest in a family of 12 children, recalls when she was a teenager and cared for the younger siblings while her mother, Dorothy Byers, was working.
As a teenager, she resented being one of the oldest and having that responsibility, but looking back, she wouldn't have it any other way.
"It made me a strong person and gave me more appreciation for what my mom did for us," she said.
Byers has been gone for almost five years, but McKnight said she and her siblings still revere and admire her mother for all she did for them.
Byers, who was from Warren, often worked two to three jobs at a time to support her family. Her husband also worked a couple jobs at a time while the kids were growing up.
Mother's Day 2018 Contest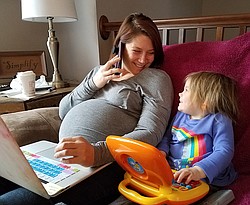 Gallery
Vindicator's 2018 Mother's Day Contest entries
Many famous people, including Lucille Ball, would come to stay at the Downtown Motor Inn, where Byers worked.
Byers' children got to meet some of those celebrities when they came to help clean at the inn before Kenley Players events at W.D. Packard Music Hall in Warren.
Angie Conway, the seventh-born child, said their mother knew how to stretch their budget at a time where finding a nickel was like finding gold.
It was important to Byers that her children attended parochial school, and she worked hard to pay for tuition for each child.
But like most families, they had to get creative when money was tight.
This meant sometimes putting a Wonder bread bag over shoes when they couldn't afford new winter boots and coming up with creative recipes when they had to just eat whatever was left in the pantry.
But the 12 children never went hungry and always had a warm place to sleep.
Though Byers didn't have a whole lot of time to enjoy sports when her children were young, she was an avid Cleveland baseball and football fan. Conway attributed her love of sports and music to her mother, and remembered how they had a blast going to Indians games together.
She never missed her children's baseball, softball and football games, and of course loved watching Conway and some of her siblings in the marching band.
One of the fondest memories
McKnight and Conway have is when their parents took all 12 kids to Idora Park. They roamed the park with red Radio Flyer wagons full of kids, and filled up all the seats on some rides.
"Our parents always scraped enough money for cotton candy and the rides we wanted to go on," McKnight said.
Conway and McKnight said their mother taught them about respect and forgiveness, and while she could be strict, she always gave them a second chance — and the women took the same approach when they became mothers.
More like this from vindy.com