3rd Mahoning County opioid summit examines whether addiction is a choice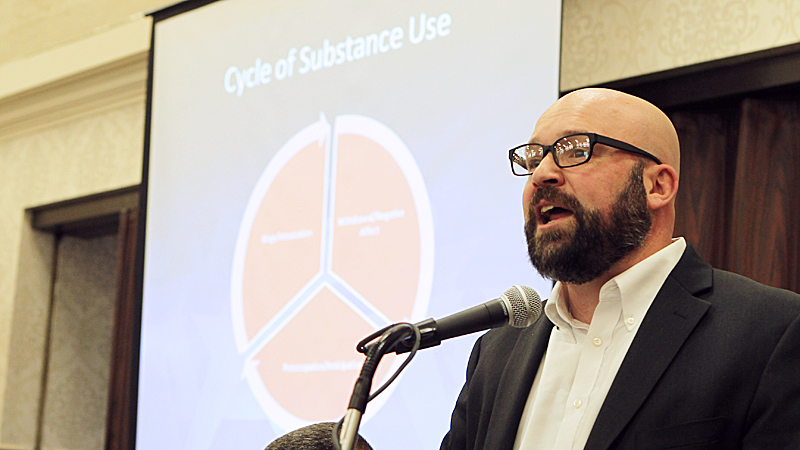 ---
YOUNGSTOWN
Jeremy had been sober from drugs and alcohol for six months when an acquaintance suggested marking the milestone by smoking crack.
His mind raced thinking of the consequences – letting down his loved ones, getting kicked out of drug court, derailing all of his hard-won progress.
Even with those stakes in mind, he thought, "Maybe just this once."
He ended up relapsing. That's when he understood for the first time something he hadn't believed before: that addiction is a disease, not something he could overcome simply because he had detoxified his body.
Whether addiction is a choice or a disease was the focus of the third community opioid summit organized by the Mahoning County Juvenile Court and Mental Health and Recovery Board on Friday at Our Lady of Mount Carmel social hall. More than 150 were in attendance.
Duane Piccirilli, executive director of the mental health and recovery board, said the topic was selected after officials received numerous questions about whether addiction is a choice after two previous forums.
The event featured several speakers, including medical professionals, a law enforcement officer, and people in recovery, such as Jeremy, identified at the event by his first name.
Dr. Daniel Brown, chief medical officer at local treatment provider Meridian HealthCare, spoke about what addiction is. An important point, he said, is that it is not interchangeable with dependence.
"Dependence is a normal physical adaptation to the chronic exposure to a substance," he said.
Addiction, on the other hand, is a chronic, relapsing brain disease.
Brown explained that addiction occurs within the brain's reward system.
"What happens when someone takes a substance of abuse? That substance of abuse goes into that part of the brain and hijacks it," he said.
A substance such as heroin or methamphetamine registers in the brain's reward system at a significantly higher level than other "rewards" such as food or sex, he said.
Brown also explained how three factors – biological, environmental, and psychological – play into addiction. Some people have all three factors. Some people have a genetic predisposition paired with exposure to a substance.
Brown was definitive on one point: While the initial use of a substance might be a choice, addiction is not.
"No one chooses to become addicted," he said. "Addiction is not a choice."
As for Jeremy, the day he came to that understanding was the last time he used. He's now been sober 18 months, and wants others who are addicted to know there is hope for them, too.
His journey to recovery started with a detective arresting him for burglary (he later found the officer and thanked him for helping save his life).
Although the road wasn't smooth, that encounter was a wake-up call that led him to seek treatment and enter a drug court program.
Now, he said, he has a great group of friends, a girlfriend, and the forgiveness of his family.
"Treatment does work," he said. "I'm a living example."
More like this from vindy.com