90-year-old apartment complex to see new life thanks to city group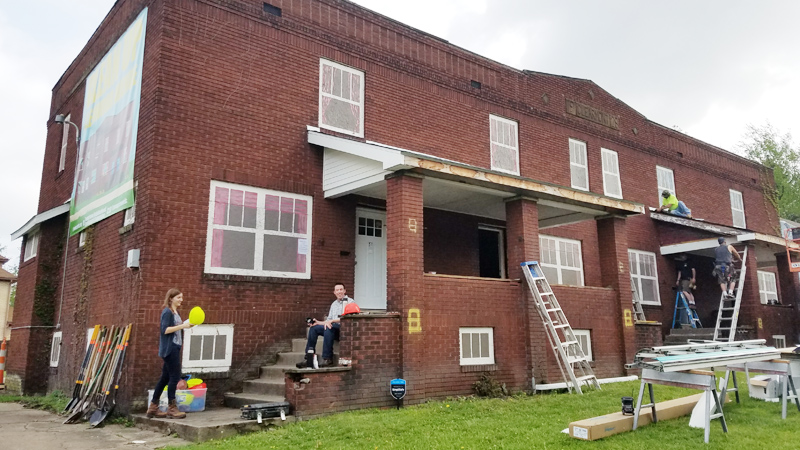 ---
YOUNGSTOWN
The Youngstown Neighborhood Development Corp. broke ground Thursday on the renovation of a 90-year-old apartment building in the Glenwood Avenue corridor.
The four-unit apartment at 650 Clearmount Drive was built in 1928 and has been in YNDC possession since 2014. Tiffany Sokol, YNDC's housing director, said the organization would spend approximately $250,000 renovating the 5,200-square-foot property.
Home Savings and Loan created a loan to finance the project for the YNDC.
The building is red brick and sits at the corner of Clearmount Drive and Glenwood Avenue, four blocks south of Canfield Road.
Sokol said the building would be rented as four units, each with two bedrooms, a bathroom, a second level, formal dining room and a laundry.
"They're very cool rooms," Sokol said. "The building is full of great character. We're excited to have it renovated, and of course we'll be adding modern upgrades like high-efficiency furnaces to help manage the utility costs associated with the units. Our construction team has done a great job here so far, and we know they'll do a wonderful job on the renovation."
Sokol said the three smaller units in the complex likely would rent for $650 per month, while the fourth room – which has a pair of bonus rooms – likely would rent for $675.
Sixth Ward Councilwoman Anita Davis was present for the groundbreaking and said she was happy to see the property receive attention from the YNDC.
"It's wonderful. It's been great for the neighbors to see this part of the ward picking up again," Davis said. "Projects like these bring up the homes' property values and the spirits of the people who live here."
Davis said she was excited to see the property occupied after sitting vacant for so long.
"I know the YNDC will find good people for the building, and they'll be on top of keeping it well-maintained," Davis said.
The building was actually the site of a YNDC project in 2014 in which volunteers cleaned up the property and boarded the windows. Those same boards were still up Thursday as the YNDC construction team was beginning its work.
"It's exciting to see how the work we did years ago has paid off today," Sokol said.
More like this from vindy.com