---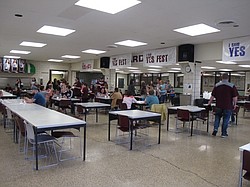 Photo
Neighbors | Zack Shively.Stadium Drive's Ice Cream Social gave the students a chance to see their friends outside of school and have fun. Principal Michael Zoccali said the event continued the school's on-going sense of community.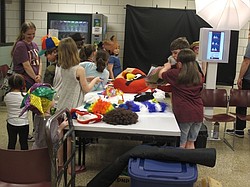 Photo
Neighbors | Zack Shively.The students of Stadium Drive Elementary also had a photo booth and dancing area in addition to ice cream at the Ice Cream Social. The adults could win family prizes in a basket raffle as well.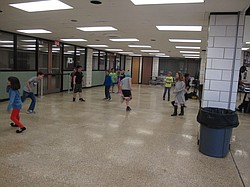 Photo
Neighbors | Zack Shively.The Stadium Drive Ice Cream Social featured a section in the cafeteria where the students could dance and run around with their friends from school. One of the dads at the event provided his abilities as a DJ for the children.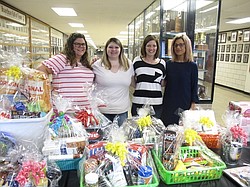 Photo
Neighbors | Zack Shively.The proceeds from the Ice Cream Social went back to the Stadium Drive Elementary PTA. They will use the money to fund projects for the school, such as a piece of new playground equipment for the school.

Photo
Neighbors | Zack Shively.Stadium Drive Elementary's PTA hosted an Ice Cream Social at the high school on April 27. Every student received a sundae and got to choose the toppings for the event.
By ZACK SHIVELY
Students and families of Stadium Drive Elementary gathered at the high school for their Ice Cream Social on April 27.
The school's PTA organized the event to raise money to help fund their projects for the school and give the families a night to get together.
"It's a fun night for the kids to get to hang out with their friends from school," said Leslie Blevins, the president of the PTA. She and her volunteers made the night run smoothly.
Each student and parent got to make their own ice cream sundae.
In addition to the ice cream, the PTA had a DJ and a space for the children to dance, a basket raffle and a photo booth for families to take pictures together.
"This event helps the school build upon that community feeling," said Michael Zoccali, the school's principal. He walked around and talked to the families during the event.
The PTA will use the money in ways that will help the school. Their previous funding helped them afford an educational STEM event from the OH WOW! The Roger and Gloria Jones Children's Center for Science and Technology that occurred in May. They also bought a new piece of equipment for the school's playground.