Muffins with Mom engages families of Bunn Elementary students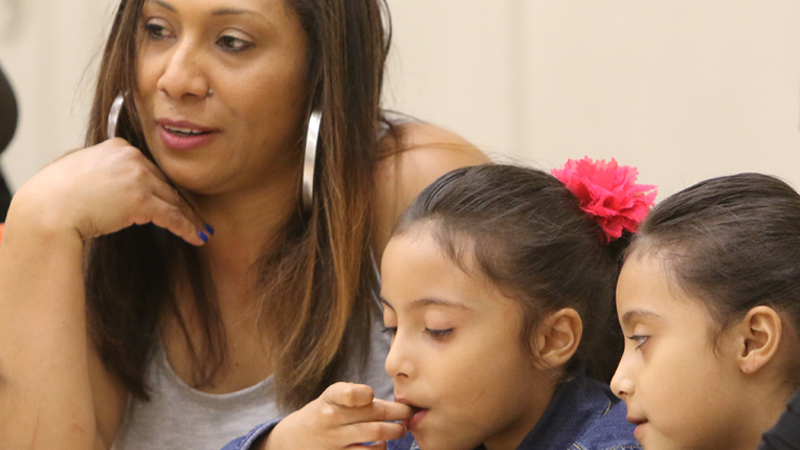 ---
By AMANDA TONOLI
atonoli@vindy.com
YOUNGSTOWN
More than 50 sisters, moms, grandparents and more joined students for Paul C. Bunn Elementary's Muffins with Mom in the school cafeteria Thursday.
"We had a lot of parents come out – parents, aunts and grandparents," said Adrian Fordham, Youngstown City Schools parent engagement coordinator. "We are trying to get back to parent engagement [in the district]. That way, they can get involved and see what's going on in their child's life."
The turnout was so unexpected, the school ran out of muffins.
By increasing parent engagement, Fordham said students can feel they are cared for on personal and academic levels.
In addition, parents get to peek in on the academic side of their child's life, she added.
Brandy Cella visited with her two sons, Conner, 7, and Liam, 5.
"It's nice because you get to spend time with the babies," she said.
Nikki Dodd, who came to see her younger fourth-grade sister Allison Dodd, agreed.
"It was just something nice to go to that makes my sister happy," Nikki said.
Allison said seeing her sister was a surprise — but the best kind. "I didn't think we'd be able to come because of a doctor appointment, but we were able to and Allison was just really glad," Nikki said.
Student Te'Nya McKinley, who was joined by her mother LeTaya McKinley, echoed Allison's sentiment.
"It's just nice for [the school] to have the event for moms to come in," she said.
Mother Kay Hoke said Muffins with Mom was soulful.
"I like being able to see my son and daughter in school before they start their days," she said.
Hoke's son Mijewel Hoke, pre-kindergarten student, said he enjoyed seeing his mom come to his school.
More like this from vindy.com