Library hosts "crafternoon"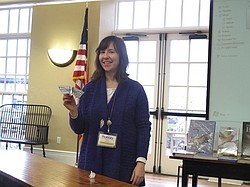 Photo
Neighbors | Zack Shively.Hayley McEwing led the "Crafternoon: Inspired by Birds" program at the Poland library on April 6. The program looked at birds and their singing abilities. At the end of the program, McEwing brought out a coloring activity and a paper craft for those in attendance of the program.
by ZACK SHIVELY
The Poland library had a crafting session inspired by birds on April 6 in their meeting room.
Hayley McEwing, supervisor for the Poland and Springfield libraries, ran the event. The event, "Crafternoon: Inspired by Birds," combined learning about nature and making crafts.
"I am fascinated about learning and identifying birds by sound," said McEwing. She continued to say that she wanted to get people interested in the nature of the area.
She suggested that the attendees take a walk near Yellow Creek next to the library before the event to hear some of the birds firsthand. Once the event started, she used a laptop and books to do her presentation.
The books on the front table all dealt with identifying birds from their sounds. Most of the books came from within the PLYMC, while others came from other libraries in Ohio.
She showed the group a couple of the books, such as Donald Kroodsma's "The Backyard Birdsong Guide: Eastern and Central North America: A Guide to Listening." This book had a built-in audio player that played over 100 different bird noises. Many of the other books came with CDs to listen to the birds covered within the book.
She played two videos from the Cornell Lab of Ornithology about bird noises. One showed a number of ornithologists making bird sounds and how they remember to replicate them, such as pretending to say "drink your tea."
The other video demonstrated the vocal range of a cardinal, which have a larger pitch range than a piano. She also showed another video showing birds' syrinx, or vocal chords. They can use both sides independently to make two different sounds at once.
After giving some information about bird sounds and how they make them, McEwing passed around two crafts books that did not belong to the library to the attendees. These books had coloring activities and origami exercises. The latter had attendees pull the paper from the book and fold it into a given shape, at which point the folder would toss the piece of paper so it would glide through the air.
More like this from vindy.com