Freshman pitcher goes distance to oust Liberty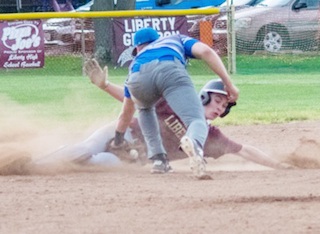 ---
By BOB ETTINGER
sports@vindy.com
LIBERTY
To say Grand Valley right-hander Derek Jackson was nervous entering the seventh inning against Liberty in a Division III sectional game at Liberty Township Park on Thursday evening is an understatement.
The freshman fought back those butterflies well enough to record a victory, 3-2, over the Leopards.
"I was shaking," Jackson said. "It was nuts. I haven't been in a situation like that. I just close my eyes and breathe. I was just trying to be as efficient as I could and let my fielders work."
Jackson allowed a walk but remained unscathed in earning the complete-game win.
"[Coach told me] to calm down, throw strikes, get ahead and let's go win a ballgame," Jackson said. It's an incredible feeling. It's a once-in-a-lifetime thing."
Jackson allowed two earned runs on three hits, struck out five and walked a pair.
The fifth-seeded Mustangs (12-6) will play top-seeded Champion in a district semifinal at Niles at 5 p.m. on Wednesday.
Despite the loss, the Leopards (14-9) turned a corner.
"I think we've arrived," Liberty coach Matt Otto said. "We've built a foundation. We had more wins this year than the senior class has had in their whole careers."
Michael McGovern knocked an infield single to lead off the top half of the seventh for Grand Valley to chase Liberty starter Dwight Parker from the mound. David Nye sacrificed McGovern to second before Nick Reichek was intentionally walked. Robert Miller hit what appeared to be a taylor-made double play ball, but the throw to second sailed wide of the bag allowing McGovern to scamper home with the go-ahead run.
"We've got to take care of the ball in the seventh," Otto said. "If you take a look at it, we had two errors in the inning. We've got to take care of it. The ball didn't boubce our way today. We had an error to start the inning, then there was the sacrifice. I didn't like the whole pace of the inning. McGovern is a pretty quick kid. We've got to get the ball out of our hand quickly and we didn't. Then the sacrifice and I walked because I said to myself I didn't want their best player to beat us. We got the ground ball for a double play."
Parker took the loss in working six innings. He allowed three runs – two earned – on seven hits. He struck out two and walked one.
The Mustangs took a 2-0 lead through an inning and a half after Reichek singled and scored on a sacrifice fly from Gary Gearhart in the top of the first and McGovern smacked a two-out single and scored from second on Reichek's single.
The Leopards knotted it, 2-2, in the home half of the fourth behind a lead-off homer from David Sewell and a bit small ball. Ty Leshnack was hit by a pitch, stole second, moved to third on a wild pitch and scored on a groundout from Christiian Kijowski to tie it up.
More like this from vindy.com