Vlajkovich heads to Canton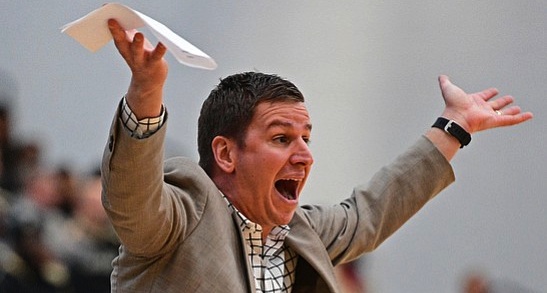 ---
By STEVE RUMAN
sports@vindy.com
WARREN
The Canton McKinley High basketball program found its coach, and as a result the Warren G. Harding basketball program is suddenly in search of a new leader.
On Tuesday, Canton City Schools Superintendent Adrian Allison announced that the district plans to hire Andy Vlajkovich as the head coach of the Bulldogs. Vlajkovich will replace Rick Hairston, who retired in March following a 28-year coaching career. Hairston compiled a 50-27 record in three years at McKinley. This past season, the Bulldogs went 15-11.
Vlajkovich will head to Canton following a six-year stint at Harding, where he compiled a 105-44 record. This past season, the Raiders went 18-7, advancing to the Division I Solon district semifinal.
Vlajkovich previously served as an assistant at Canfield and Boardman. He was a head coach at Rootstown for three years, then became an assistant at Harding for a year before taking over the program in 2012.
"There are very, very few programs I would leave Harding for, but to me McKinley is a special situation that I couldn't pass up," Vlajkovich said. "I will leave Warren with nothing but great memories. I owe a great deal of gratitude to the Warren community, which opened its arms to an outsider and always made me feel at home.
"I'm leaving a great community and a great bunch of players who were always supportive and committed to what I was doing."
Vlajkovich will inherit the all-time winningest program in Ohio history. That, coupled McKinley's "abundant resources" swayed Vlajkovich to be among the roughly 40 McKinley applicants.
"McKinley has so much going for its program and its schools," Vlajkovich said. "The Canton Fieldhouse is one of the most storied venues in Ohio. The recent merger [with Canton Timken] brings even more potential.
"I feel like all the ingredients are there for something special to happen."
Vlajkovich didn't have to reach deep into his memory bank to recall his fondest memories with the Raiders. He said the 2016 district championship was a highlight in terms of coaching and team accomplishments. But he pointed to the most recent season as "an example of why I got into coaching."
"This past winter, our kids were special," Vlajkovich said. "They exceeded all expectations. They faced so much adversity all year long, and overcame all the obstacles to finish really strong. I was really proud of this team."
Vlajkovich's departure has left Harding school officials scrambling to fill a void. Warren City Schools Athletic Director Bill Nicholson said the district has already posted the job internally, and will begin a statewide search as early as today.
"Ideally, we want to find someone quickly because we are approaching summer ball, but at the same time we're not going to rush into this," Nicholson said. "The most important aspect of the search is to find the right person.
"Realistically, it's probably going to be a three to four week process by the time we screen the applicants and narrow things down. But again, getting the coach that best fits our needs is more important than a time frame."
Nicholson said the district wasn't caught totally off guard with Vlajkovich's departure.
"We kind of knew that he was pursuing some options, we heard that he might be interviewing elsewhere," Nicholson said. "Like anyone, Andy has to do what he feels is best for himself and his family.
"We wish him the best. Under Andy, we continued our winning tradition. He ran a solid program."
Vlajkovich is a Canfield High graduate. Ironically, McKinley's football coach, Dan Reardon, also graduated from Canfield. Reardon served as a Harding assistant in the early 2000s.
Vlajkovich will also teach social studies at McKinley, a role he currently holds at Harding.
More like this from vindy.com