Incumbent Fuda defeats Dems' endorsed candidate Pompili-Baumiller
Staff report
WARREN
Frank Fuda, who has been a Trumbull County commissioner since 2006, has won in the Democratic primary over challenger Lisha Pompili Baumiller, getting 73 percent of the vote.
Fuda overcame a setback when the county Democratic Party endorsed Pompili Baumiller, a longtime Hubbard council member. Fuda also overcame a death in the family that set back the start of his re-election campaign, he said.
But Fuda, of Niles, said he had great support from his re-election committee.
"I want to thank everybody. It was the citizens," Fuda said of the reason for his strong showing. "I had great people who worked for me. I was very fortunate."
Unofficial election results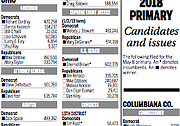 Document
Unofficial election results
Fuda now faces Republican Mary Williams of Cortland in the November general election.
The Fuda-Pompili-Baumiller race was an unusual one in that his party did not endorse him, despite him being a three-term incumbent. But Fuda and fellow Trumbull County Commissioner Dan Polivka, who is Trumbull County Democratic Party chairman, have had public disagreements in recent years over things such as hiring issues, imposing a sales-tax increase and the hiring of a county administrator.
Pompili Baumiller, a self-employed debt collector, said Tuesday night her loss is "a sad day for Trumbull County" and suggested that her loss will make it tougher for Democrats to retain the seat in November.
She also criticized U.S. Rep. Tim Ryan's decision to support Fuda, saying there will be consequences for "our highest-ranking Trumbull County official to endorse a buddy over the endorsed candidate."
More like this from vindy.com