Ungaro unofficial winner 59th Ohio House District Democratic seat
YOUNGSTOWN
Poland's Eric C. Ungaro is the unofficial winner in the 59th Ohio House District Democratic primary.
He ran against Boardman's Larry Moliterno.
Ungaro received 8,648 votes to opponent Moliterno's 4,840 votes in unofficial results.
Ungaro received about 64 percent of the votes to Moliterno's 36.
Unofficial election results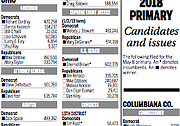 Document
Unofficial election results
"It was a lot of hard work and rekindling relationships with friends I've had through the years," Ungaro said. "I brought a lot of non-traditional people to the table ... This was result of hard-work on a rough terrain. It was important we energize people who are not political. It is just real people working everyday."
Ungaro added that he is "indebted to real people, not political people."
He came across those real people in his neighborhood visits of more than 5,000 homes he visited during his campaign.
"It's because of real people working everyday that we got here," he said. "It's teachers, coaches and friends. They all help out."
Moliterno could not be reached for comment.
Ungaro will face Republican Don Manning in the general election.
Outgoing State Rep. John Boccieri didn't seek re-election and instead is running in the open 33rd Ohio Senate District race currently held by state Sen. Joe. Schiavoni in the November general election.
The 59th District includes Beaver, Berlin, Boardman, Canfield, Ellsworth, Goshen, Green, Jackson, Milton, Poland, Smith and Springfield townships; the city of Canfield; and the villages of Beloit, Craig Beach, New Middletown, Poland and Sebring, as well as a small portion of Austintown.
More like this from vindy.com