Cordray, DeWine to face each other in November governor's election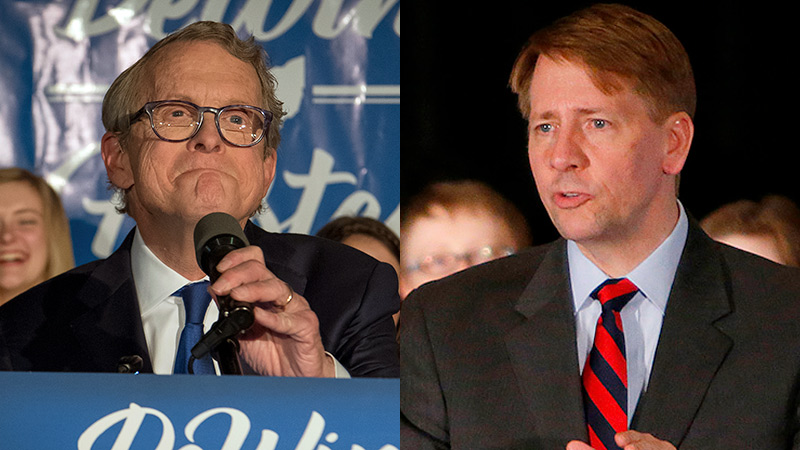 ---
Staff/wire report
YOUNGSTOWN
Republican Ohio Attorney General Mike DeWine, one of the state's best-known politicians, and Democrat Richard Cordray, who headed the federal consumer protection bureau under President Barack Obama, prevailed in their party primaries and will face each other in the November general election.
State Sen. Joe Schiavoni of Boardman finished a distant third in the Democratic primary.
With 99 percent of the vote reported Tuesday, Cordray won with 62 percent of the vote followed by ex-U.S. Rep. Dennis Kucinich with 23 percent of the vote. Schiavoni received 9 percent of the vote, but picked up 63 percent of the vote in his home county of Mahoning.
"I put my best foot forward and worked as hard as I could," Schiavoni told The Vindicator. "We went from community to community over the past 18 months and got young people inspired."
When Cordray entered the race in December 2017, several other candidates already running quit and got behind him. But Schiavoni stayed in the race and has no regrets about it.
"It was worth it," Schiavoni said. "You do the best you can and work as hard as you can and that's what I did."
Unofficial election results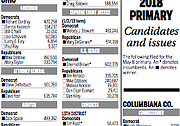 Document
Unofficial election results
Schiavoni said if Cordray wants his help, he will give it to him.
DeWine's victory over Gov. John Kasich's lieutenant governor, Mary Taylor, followed a bitter and expensive campaign in which Taylor likened DeWine's record to that of Obama and Hillary Clinton and questioned his loyalty to President Donald Trump.
DeWine, who ran with Secretary of State Jon Husted, told supporters on Tuesday that his win was a recognition by the voters that the ticket "is what Ohioans want and what Ohioans need."
"Jon Husted and I are the ticket with innovative ideas," he said.
"We are the ticket with bold and visionary policies and programs."
Cordray, in his victory speech, congratulated DeWine for "winning one of the ugliest campaigns I have ever seen."
"This victory happened for a reason," he said. "You demanded change, and we heard you, and we want the same."
DeWine served two terms in the U.S. Senate. He was endorsed by the Ohio Republican Party and was bolstered by his partnership with Husted, who dropped his own governor bid to become a running mate.
Cordray, meanwhile, had faced a challenge from Kucinich, Schiavoni and former Ohio Supreme Court Justice Bill O'Neill, who received only 3 percent of the vote.
Cordray's victory buoys Democratic hopes of reclaiming control of a critical battleground state, where Kasich is term-limited. Cordray and running mate Betty Sutton, a former Northeast Ohio congresswoman, will lead one of the party's strongest statewide tickets in recent memory into the fall on a campaign that's expected to focus on the candidates' efforts against consumer fraud, political corruption and voter disenfranchisement.
Democrats see opportunity in the seat being vacated by Kasich, a two-term governor and 2016 presidential contender, while Republicans hope to hold the office.
DeWine has defeated Cordray before, in a close race for state attorney general in 2010.
More like this from vindy.com