Niles school levy fails, but Howland levy succeeds
By Ed Runyan
WARREN
The two big additional Trumbull school levies on the ballot Tuesday went in opposite directions.
The Niles levy failed by 68 percent to 32 percent, and the Howland school levy was approved 52 percent to 48 percent in complete but unofficial results.
In the Niles school district, voters said no to a 5.85-mill, 10-year emergency levy that would have generated $1.3 million annually.
The district has been in state-declared fiscal caution since last October, but voters refused a 9.25-mill levy in November that would have raised $2 million. The district was in the more serious fiscal watch from 2003 to 2016.
Niles schools Superintendent Ann Marie Thigpen said the 5.85-mill levy would "only keep us afloat." She could not be reached for comment Tuesday night.
Unofficial election results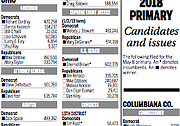 Document
Unofficial election results
In April, the school board eliminated one primary school principal position and three administrative assistant positions that will take effect this June. That move will save the district $210,000 annually starting next year.
The Niles district says it lost about $1 million of revenue from students who enrolled in charter schools. There were 150 fewer students in the district last fall than the year before, Thigpen said.
In Howland, voters approved a 10-year, 5.9 mill emergency operating levy by a narrow margin. The levy will raise an additional $3,278,754 per year. There was an intense local campaign for its passage and to preserve programs.
Howland Superintendent Kevin Spicher thanked the voters for approving the levy, no matter how slim the margin and added, "We're going to continue to be good stewards of the taxpayers' dollars."
Treasurer Rhonda Amorganos said before the election that the additional revenue would keep the school district out of fiscal caution and prevent officials from having to cut more programs. The district is currently in fiscal watch, meaning the state auditor has certified that it has an operating deficit for the current fiscal year.
The district says it has been hurt by the loss of tangible personal property taxes, which traditionally helped districts with sizable industrial areas the most.
The Howland district has made staffing cuts
More like this from vindy.com