Rimedio-Righetti handily wins against Paloski
Staff report
YOUNGSTOWN
Mahoning County Commissioner Carol Rimedio-Righetti handily won her Democratic primary race against challenger Joe Paloski.
The unofficial vote totals Tuesday night showed that Rimedio-Righetti received 68 percent of the vote.
"I'm very excited to win this race," she said. "I want to thank my family, friends and all my supporters who worked very hard for me. The county commissioners are a team, elected to work together as a group so that people can see that Mahoning County is working, and that good things are happening here. And we're going to continue to do that as we prepare for the general election."
Paloski said in a statement: "We may not have received the majority, but every vote was truly appreciated and restores my faith in the process, the progress and the vision for a new Mahoning County."
Unofficial election results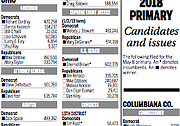 Document
Unofficial election results
Rimedio-Righetti made the center of her campaign her efforts to help offset a $4.4 million loss of tax revenue through the Medicaid Managed Care sales tax. She has frequently criticized actions at the state level that have reduced the funds available to the county.
Rimedio-Righetti said she was instrumental in the renovations to the Mahoning County Courthouse and played a role in the creation of a modern, $3 million dog pound.
Paloski campaigned on promoting regional economic development and capitalizing on the parts of the county that qualify as "Opportunity Zones" under the Tax Cuts and Jobs Act of 2017.
Issues of experience and accountability largely framed the race.
Rimedio-Righetti, a two-term incumbent, argued that Paloski lacked the experience to act as commissioner, while the 32-year-old Paloski characterized Rimedio-Righetti as part of the "old guard" and argued that the commissioner's office would benefit from a younger perspective.
The opponents disagreed over the future of Oakhill Renaissance Place, a former hospital where many of the county's departments have their offices.
Rimedio-Righetti wants to turn part of the facility into transitional housing for female veterans, which Paloski opposed, arguing the building was too old. He suggested instead using the complex to house a nonprofit health care organization or for use as a filming location for television shows and movies.
In response to Rimedio-Righetti's proposal for veterans housing, Paloski suggested using the Mahoning County Land Bank to identify homes where female veterans could live. He argued his plan would be more cost effective and had been proven effective by Women of Hope Inc. in Cleveland.
Paloski also criticized Rimedio-Righetti for remaining loyal to former Youngstown Mayor John McNally following his misdemeanor convictions connected to the Oakhill corruption scandal.
More like this from vindy.com