Boardman levy a success, Austintown possibly a failure
YOUNGSTOWN
Primary Election Night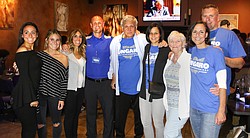 Gallery
Boardman schools' 5.8-mill levy has passed with 51 percent of the vote, according to Tuesday night's unofficial tally.
Boardman schools Superintendent Tim Saxton said he is excited and grateful for passage of the levy.
"This is about Boardman," he said. "This shows what a great, great community we have."
The 5.8-mill, 10-year emergency operating levy will generate $4.9 million annually and cost the owner of a $100,0000 home approximately $205 per year.
Saxton said he plans to continue the practice of being fiscally sound across the district.
Unofficial election results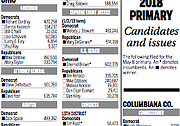 Document
Unofficial election results
"We will roll up our sleeves and get to work," he said.
In a statement released by the district, Saxton said: "We realize the vote is a sacrifice for many in the community, and the district is committed to continuing to find innovative ways to save money, and cut costs. This vote ensures that the children in kindergarten today will enjoy the same programs that our graduating seniors are currently receiving – programs that emphasize academics, athletics and the arts as a three-pronged approach to their success."
Another Boardman Township levy also received the blessing of the electorate.
About 59 percent of voters were in favor of the township's replacement levy. The new 2.9-mill levy, which generates an additional $1.5 million per year, replaces a 3.2-mill levy which generated about $1.2 million annually.
By replacing the levy, it will generate about $2.7 million per year at 2.9 mills, according to the Mahoning County Auditor's office.
The five-year levy will cost the owner of a $100,000 home $60 per year, up from $37 year, according to information provided by the township.
Austintown Township did not have the same success with a replacement levy, which looks to have failed by 18 votes. Although the levy is behind, provisional ballots have yet to be counted.
The 2.4-mill replacement levy would have added an additional .08 mills and increased the levy's revenue from $1,089,926 to $1,990,583.
The annual cost to the owner of a $100,000 home would go from $51.92 to $112.
Jim Davis, an Austintown Township trustee, said he is very disappointed with the result.
"When you talk about things such as safety forces who risk their lives on a day-to-day basis, it's disheartening to see such a levy fail," Davis said. "Now we must regroup, decide what cuts to make and move forward."
More like this from vindy.com