Donofrio victorious in contest for judge of Mahoning common pleas court
YOUNGSTOWN
Anthony Donofrio was victorious in his primary contest for judge of the Mahoning County Common Pleas Court.
As no Republican has filed to run in the general election, Donofrio's victory in his primary race ensures his victory during the general election.
Donofrio won over Daniel Dascenzo with 56 percent of the vote. The race between Dascenzo and Donofrio saw two attorneys competing on the finer points of their careers.
"I'm thrilled. I'm so thankful and grateful for my friends and family and supporters for making this happen," Donofrio said Tuesday night. "Now we're going to get to work on the bench. It's all been a very humbling experience."
Unofficial election results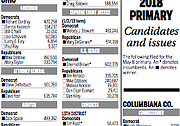 Document
Unofficial election results
Donofrio, the deputy law director of Youngstown for more than six years, worked as an attorney for 27 years prior to his current position.
He said developing treatment alternatives and establishing special dockets – such as drug courts – will be priorities for him during his time as judge.
Donofrio has been a trial lawyer for the entirety of his career, which included serious felony cases before juries.
Donofrio's father, Judge Joseph Donofrio, served for 13 years on the Youngstown Municipal Court — a fact that the younger Donofrio touted as a point of pride during his campaign.
Dascenzo, who has been practicing law for 20 years, spent half his career as a labor attorney and the other half serving as a magistrate in the court of Judge D'Apolitio.
"Obviously I'm feeling a little disappointed, but I'm proud of out effort and everyone, for my friends and family and supporters," Dascenzo said. "I learned a lot about politics and a lot about myself, which I'm proud of. I'm going to head back to the magistrate and see what the future holds."
Dascenzo also congratulated Donofrio on his victory.
"Congrats to Anthony and his supporters. They worked really hard, and I know he'll serve well on the bench," he said.
In Mahoning County, magistrates preside over the civil docket and also conduct criminal arraignments.
More like this from vindy.com