Brookfield's Colwell runs with extra motivation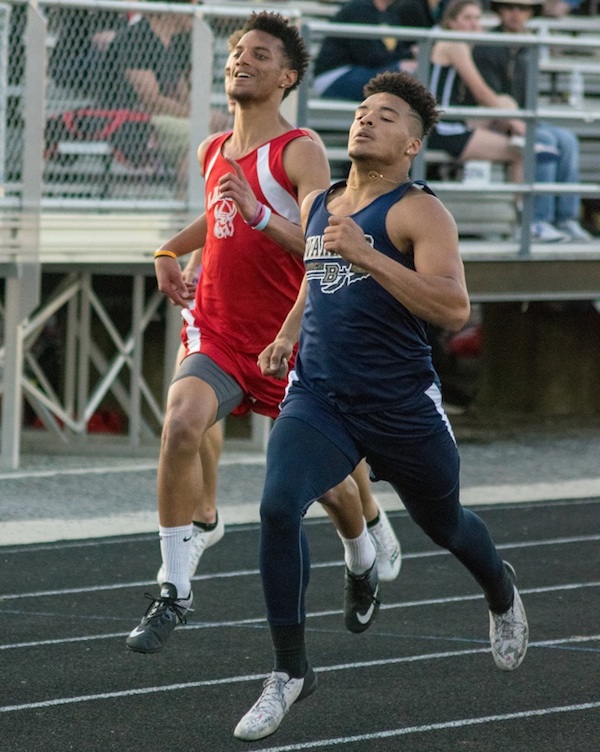 ---
By BOB ETTINGER
sports@vindy.com
CORTLAND
Brookfield sprinter Dionte Colwell was running for something bigger than himself as he took to the track for the All-American Conference Blue Tier Track and Field Meet at Don Richards Memorial Stadium on Tuesday.
"A lot happened this weekend," Colwell said. "One of my friends [died] on Friday. Everything today was for him. Yesterday was real hard at school. Nobody was talking. Today was a little better, but it's still hard. His locker is still there and it's decorated and everything."
Colwell laid claim to the 100- and 200-meter dash titles in the wake of his grief.
"I don't [let it go]," he said. "I keep it. It lets me know I have a purpose to run for."
Running for something bigger than oneself seemed to be the theme of both the Blue Tier and White Tier meets.
Take, for example, the Poland girls team, which won the White Tier.
"A lot of really young kids stepped up," Poland girls coach Gabby Massey said. "The seniors led the charge. We had a lot [of personal records]. We had people doing events they don't normally do for the sake of the team. Everyone had a job going in. They did it and we ended up being successful. I couldn't be more proud of their efforts."
The Crestview boys had a similar type of day in winning the Blue Tier.
"Winning for the team was great," Rebels coach Greg Woolman said. "This was our first league title ever, I think. What's more exciting is the kids came in here and looked at the program. They saw what the meet records were and said they wanted to go after them. They wanted to win, but they were after bigger things. To see a kid want to do those kinds of things is exciting because they're competing against themselves, not just the guys they're running against."
In the girls Blue Tier, LaBrae edged Champion by two points for the victory.
"We were consistent in every event placing girls in the top three," LaBrae coach Anthony Johnson said. "Coming from where this team was, it was a great improvement to win the AAC championship two years in a row with a small amount of girls. We only have 15 or 16 girls. We have eight throwers and seven or eight runners. With those girls, this was amazing."
They might not have won, but it was a strong day for the Golden Flashes.
"They all came in trying to do their best," Champion coach Shawnn Wilson said. "They did that. Track is all about getting that PR and wherever the points fall, they do. We picked up some [points] I didn't think we'd get."
Jefferson took the boys White tier title, it's first of any kind since 1985.
"This was one we really wanted," Jefferson coach T.J. Furman said. "I think we've been second five out of seven years. It's a great feeling to get up over that hump. It was a great team effort."
Haley Brugler was the leader for the Champion girls in winning the 800 and 1,600 runs.
"I'm very hard on myself," she said. "Even in the [1,600], I didn't get the time I expected. I was first, but I didn't care about that. I care about my time. I was mad about my time, but my coach told me I won, I have something to be happy about, especially since I'm still new to running that race."
Hubbard's Jared Southern set a White Tier meet record in winning the 400. He also won the high jump.
"I knew I had quick people in that race," Southern said. "The main thing was I wanted to place high so we could meet the goals we set coming in. I just didn't want to see anybody around me. I know there were other guys who were in other heats. I was competing against myself. I thought about what I had left in the tank and I used it all. I did what I could and hoped it was enough. It was pretty cool, especially because it wasn't expected."
More like this from vindy.com