LORDSTOWN ZONING | Board unanimous; TJX says thanks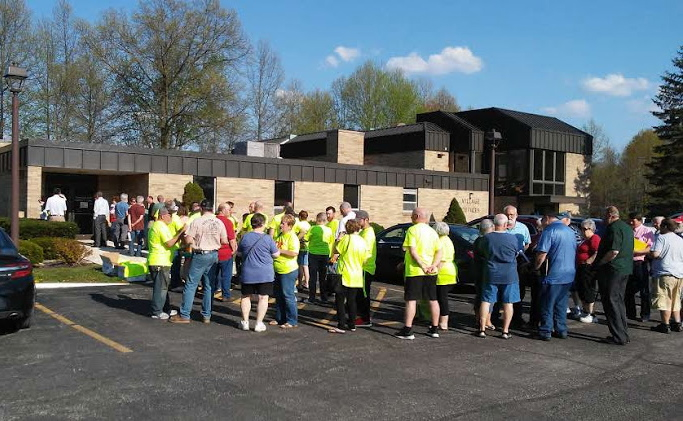 ---
LORDSTOWN — The sounds of chairs scraping and people leaving the room sounded as the commission went through each zone change and voted yes.
The commission approved all seven zone changes 4-0, with one member not present.
HomeGoods released a statement following the meeting:
"We are very pleased with the results of tonight's Lordstown planning board vote and want to thank the board members for their support," spokesman Andrew Mastrangelo said. "We want to reiterate, especially to those who reside alongside the property, that we are committed to being a good neighbor to the Lordstown community. ... We want to thank all of those in the community who have supported our proposed project and look forward to continuing to collaborate with local, state, and federal agencies to make it a reality."
Mayor Arno Hill, a voting commission member, said he was happy with the outcome and hopes the community can come together again.
The plan is not a done deal, as village council still must have readings and vote. Hill said council will have a public hearing on the matter in the near future.
9:05 p.m.
LORDSTOWN — The village zoning and planning commission has approved proposals to rezone 300 acres of residential land to industrial for a HomeGoods Inc. project.
8:52 p.m.
LORDSTOWN — There have been impassioned pleas from both sides during tonight's meeting.
"It is time for change, not only in this village but the entire Trumbull and Mahoning counties. We have lost 2,700 jobs in Lordstown in the last year and a half. We can't afford to lose anymore jobs," said village resident Keith Westenfelder. "This is about the future of the entire area. We need the jobs here."
The commission has asked company representatives to answer questions.
8:35 p.m.
LORDSTOWN — Company representatives and engineers addressed numerous concerns that have been raised by residents, such as traffic and drainage.
For example, they said the site would be accessible only via Ellsworth-Bailey Road, not Hallock Young Road. The facility would have three access points.
They said a traffic study recommended adding left-turn lanes at all access points, signals at two of them, and a right-turn lane on Hallock Young.
Engineers said a noise study found there would be no discernible difference in noise caused by the facility's operations, but there would be a difference during construction.
The study recommended the company limit construction to daytime hours.
Zoning commission members asked a few questions. Public comment has now ended with about a dozen people from each side making their case.
7:32 p.m.
LORDSTOWN — HomeGoods representatives presented information about the project, and explained why they believe the community should support it.
A lawyer speaking on behalf of the company noted the 1,000 jobs HomeGoods promises within five years, with an estimated annual payroll of $27 million.
He noted the tax revenue it would provide the area, as well as the jobs it would provide for local residents.
He also said the company plans to develop responsibly, noting buffer zones that will separate the facility from neighbors.
"We landed in Lordstown because we felt this was a great place," another company representative said, saying the area is known for its strong work ethic. "That's why were here."
6:50 p.m.
LORDSTOWN — Tonight's village zoning and planning commission meeting, at which a proposal to rezone 300 acres of residential land to industrial for a HomeGoods Inc. project, has drawn a large crowd.
The meeting got underway at 6:30 p.m.
The meeting room is at capacity and fire officials are letting people enter only if others leave.
Dozens of people are in neon shirts showing support for the project with the slogan "Right Project Right Property."
The commission will consider zone changes for seven residential properties.
More like this from vindy.com