More students can join Hubbard schools' band thanks to an instrument drive coordinated by senior Isaac Coxson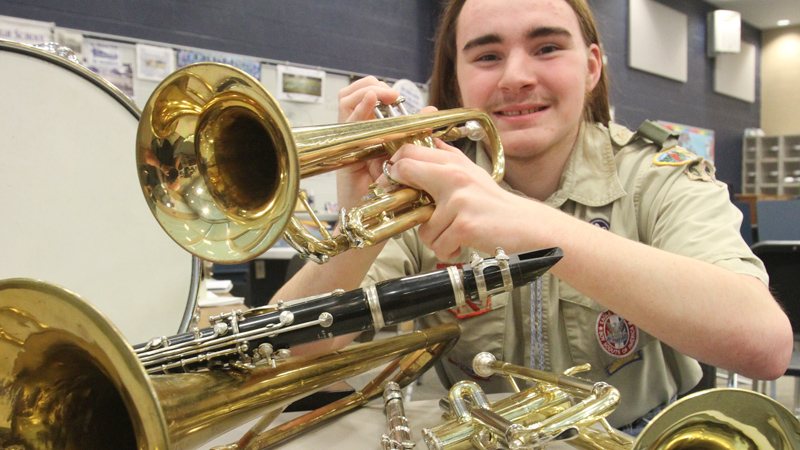 ---
HUBBARD
More students can join Hubbard schools' band thanks to a musical-instrument drive coordinated by senior Isaac Coxson.
Coxson collected 21 gently-used instruments of all types for his Eagle Scout project.
To achieve the Eagle rank, Scouts are required to create a project to benefit the community. It's up to the scout to raise funds and gather volunteers.
Dan Nestich, band director, said students who need to borrow an instrument while theirs is being fixed can borrow a donated instrument now instead of paying for a rental.
Having the extra instruments also extends the opportunity to join band to more students.
"We're a big family that works together," Nestich said. "This is one family member helping another."
Andrea Lewis, assistant band director, said the band needed the instruments.
"A lot of students have their heart set on playing a certain instrument but don't have the money for it," she said.
Coxson, who plays the trumpet, had to market the drive, and late last year asked people and businesses to contribute.
Premier Graphic and the Ron Sign Shop donated signs for him to use, and Hubbard Music and Modern Music donated instruments.
Daybreak Music and Andy Erb, band director of Thiel College, offered to repair any donated instruments before they were given to a student.
Premier Tour and Travel offered a monetary donation to repair donated instruments.
The drive went smoother than Coxson would have anticipated, he said. The project taught him a lesson on time management.
He said he is glad the drive will lessen the financial burden for students who want to play in band.
Coxson has played trumpet in Hubbard's band for six years. He participates in marching band, jazz band, pep band and solo and ensemble.
He has been an Eagle Scout for 11 years.
"It teaches you a lot of life skills," he said.
Coxson's mother, Kim Coxson, said she watched her son grow as a person from his band experiences and come out of his shell. Isaac's dad is David Coxson.
Coxson's project was recognized by Boy Scouts of America and the city at a ceremony late last month at the Corner House Christian Church.
Scoutmaster Rich Cook bestowed the Eagle Scout honor to Coxson. Hubbard Township Police Chief Todd Coonce and Hubbard Mayor John Darko were among those who attended the ceremony.
Only about 2 percent of boys who enter scouting achieve the Eagle rank.
Coxson's brother, Hayden, also became an Eagle Scout in 2015.
More like this from vindy.com