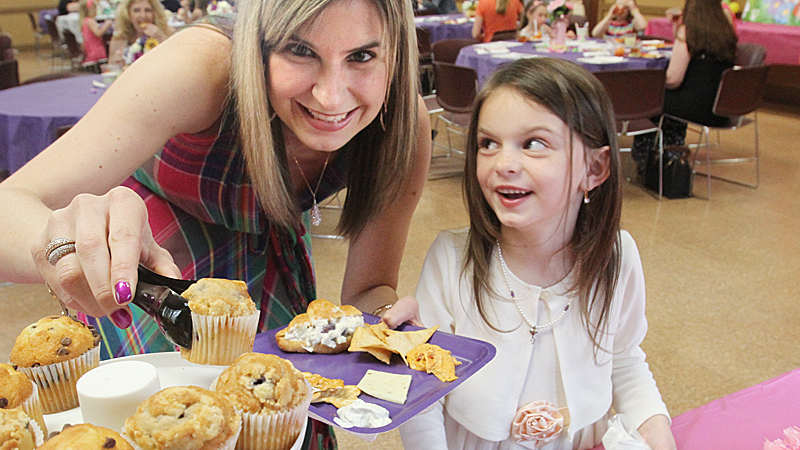 ---
By Sean Barron
BOARDMAN
Apopular yearly gathering may not have given Sophia Klindworth an opportunity to engage in two of her favorite "D's," but she did get to do two of her favorite "C's."
"She's a fun-loving 6-year-old," said Sophia's mother, Deana Klindworth of Columbiana, who added that her daughter loves crafts, coloring, dancing and Disney World.
Sophia didn't dance or make a second trip to the famous Orlando, Fla., tourist attraction, which she got to visit last November, but she did enjoy making crafts and perfecting her coloring skills, courtesy of being at Sunday's 14th annual Mommy & Me for Tea and Fashion Show in Boardman Park's Lariccia Family Community Center.
"It's fun for all of the girls to hang out with their moms all day," Deana said, adding that her sons Andrew, 3, and Nick, 8, got to be with their father and grandparents.
The sold-out family-oriented and semi-formal gathering gave about 90 girls age 3 to 8 a chance to spend quality one-on-one time with their mothers, grandmothers or aunts in advance of Mother's Day, which is Sunday, noted Karen McCallum, the park's recreation director.
"It's another fun way to celebrate the mom season," she said.
The youngsters also showed off their outfits by walking down a long black carpet that acted as a runway. In addition, a professional photographer took family pictures and attendees took home their portraits, McCallum explained.
To prepare for her walk down the runway, Sophia, who's in kindergarten at Holy Family School in Poland, wore a cream-colored gown and silk bottom with an embroidered lace overlay and a matching jacket.
Wearing a sparkling pink and black sundress with a complementary black-and-white striped top and yellow-green sweater was 5-year-old Mallory Berlon of Boardman, who also attends Holy Family School and shares many of the same interests as Sophia.
"We decided to get together with the other moms from Holy Family to come," said Mallory's mother, Jamie Berlon, who added her daughter derives pleasure from diverse activities that include dance lessons, gymnastics, jogging, math and art.
This also was the girls' first experience being in a fashion show, their mothers added.
During the main event, the youngsters walked down the black carpet, on which was sprinkled colorful rose petals, as the adults cheered. Adding to the festive atmosphere was McCallum's descriptions of each girl's interests, outfits and character traits, along with what they aspire to be when they grow up.
Also blended in with the fashion show was a variety of songs that featured everything from the popular 1983 hit "Walking on Sunshine" by Katrina & The Waves to The Chiffons' famous 1963 tune, "One Fine Day."
More like this from vindy.com