Curbstone's HOF inducts dozen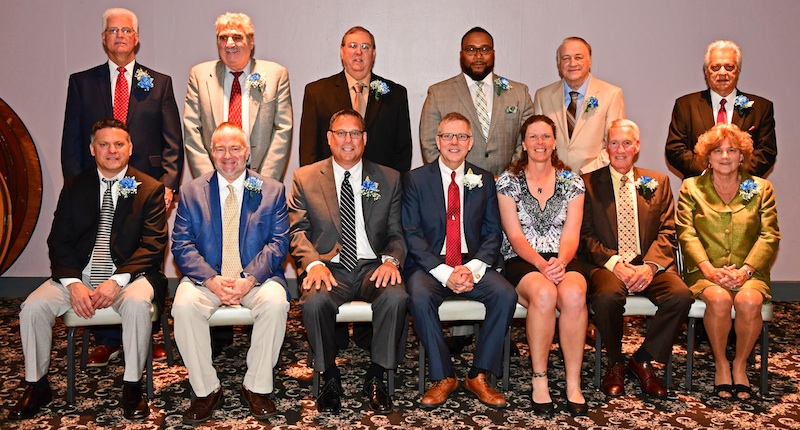 ---
By Greg Gulas
sports@vindy.com
BOARDMAN
Last October, former Youngstown State and NFL placekicker Paul McFadden attended the Philadelphia Sports Hall of Fame banquet that inducted former Penguin and Eagles signal-caller Ron Jaworski.
"When I arrived at the event and saw 'Jaws,' the first thing that he told me was that this was their 13th ceremony and that only puts them 38 behind the Curbstone Coaches organization," McFadden said Sunday at Curbstone's Hall of Fame Banquet.
"He was just so proud of the fact that his adopted hometown was so far ahead of the curve when it came to honoring its local athletic achievers and in donating proceeds from the banquet to various local worthwhile causes and charities," McFadden said.
"Our sports culture here is so very special because we're such a unique breed. We're very loyal and everything is based on hard work. We can outwork anybody, which is why the Curbstone Coaches organization means so much to the entire Mahoning Valley."
The 2018 class has Don Andres (basketball, coach), Arthur Berquist (bowling), Dr. Raymond Duffett (contribution to sports), Jim Fox (track and field/cross country), Joseph J. "Blackie" Gennaro (posthumous, boxing), Laurie Gomez-Henes (track and field/cross country), Steve Jones (football), Michael Kernan (football), Todd Marian (golf), Ann Marie Martin (basketball), Ed Moore (special award) and Vindicator sports editor, Ed Puskas (sports media).
Martin, who scored 1,631 career points for YSU from 1994-98, was escorted by her college coach, Ed DiGregorio, and former Hiram College women's head mentor Don Feren, under whom she served as an assistant coach.
She recalled how DiGregorio tried to sell her on playing for him and YSU.
"I got a call from coach and we talked on the phone for what seemed like two hours," Martin said. "The conversation was always about YSU first and then the team.
"Trouble is I had no idea about Youngstown State or where they were even located. He said to please consider making a visit and as soon I said yes, he literally hung up the telephone. Now, 25 years later, it's needless to say that I made the right college decision."
Former Penguin fullback Steve Jones, who graduated with 101 career receptions, needed to give his mother an assist in order to secure a scholarship from the late Bill Narduzzi.
"My mom actually called Coach Narduzzi to tell him that they needed to add me to their team because I was the best back in the area and I could help them out," Jones said. "When they showed up to offer me a scholarship, I had no idea that my mother had even talked to Coach Narduzzi or anyone on the staff."
After spending 37 years roaming the hardwood sidelines, Andres said the kids are still the same.
During a fact-filled, at times humorous acceptance speech, he said that he loved the game like no other.
"The kids haven't changed, but the parents sure have," he said. "We all have problems, but you have to talk them out. You handle them one at a time."

Kernan said that his high school football coach at Chaney High, Ron Berdis, gave him advice that he still imparts on his Ursuline softball teams.
"Coach Berdis instilled in all of us that your actions speak so loud, I cannot hear what you are saying," he said.
More like this from vindy.com