Terranova clears hurdles at Fitch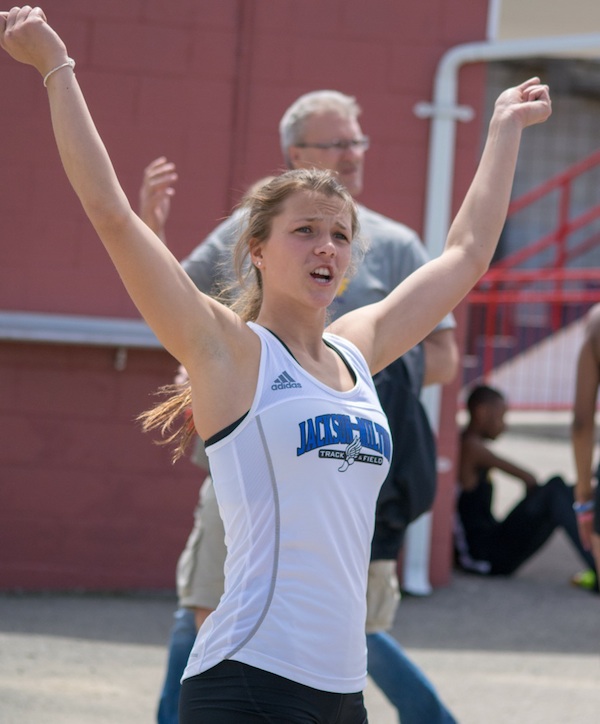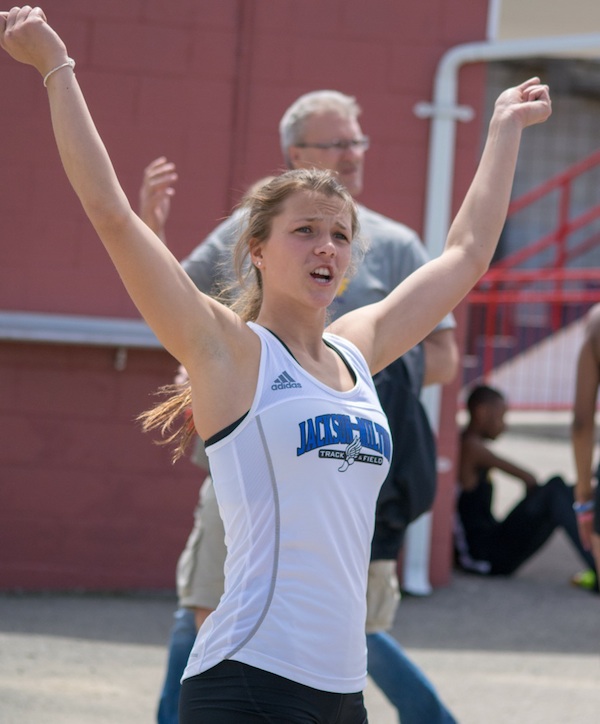 ---
By BOB ETTINGER
sports@vindy.com
AUSTINTOWN
Michaelina Terranova's biggest challenge had been herself so far this season. That was until the 38th annual Optimist Meet at Greenwood Chevrolet Falcon Stadium on Saturday. The Jackson-Milton senior rose to the occasion, winning one event and setting a school record in finishing as the runner-up in another.
"This is the first meet I'd run against competition," Terranova said. "It made me compete and run faster than I would in a normal Tuesday meet."
Terranova won the 300-meter hurdles in 46.63 and broke her own school record in taking second in the 100 hurdles in 15.45.
"I was really excited," Terranova said. "This was the first time I've come to this meet. Running against these girls will give me an idea of what's coming in the districts, regionals and, eventually, state. Running here today gave me an idea of what I've got to do to get back to state."
Austintown Fitch claimed the boys team title with 80.5 points.
"The Optimist is a prestigious meet," Fitch boys coach Seth Steiner said. "Going in, we knew we were going to have to perform at our best. The guys are performing at a pretty high level at the perfect time."
Anthony Caulton, Tyrese Bandy, Drew Bretsik and Ralph Fitzgerald took home championships in the 400 and 800 relays while Bandy finished the 200 dash in 22.21 to claim a win.
"We were finally able to put those two relays together and run the way we are capable of," Steiner said.
Jakari Lumsden was second in the high jump while teammate Deondre McKeever was third for Fitch.
"I just had to work harder than the competition," Lumsden said. "I had to recognize the competition and face it. I'm 30-50 pounds heavier than the guys I'm jumping against. I just have to do the same things they do, but better than them."
The Fitch girls were second to Twinsburg's 98 points with 67 of their own.
"A lot of girls stepped up, honestly," Fitch girls coach Bob Lape said. "This is like the postseason for us. Today was more about getting ready for the district and regional meets. When I saw the results, I was pleasantly surprised. A lot of girls stepped up and they scored all over."
Raegan Burkey of Boardman came from about 15 meters behind Minerva's Sarah Carver to claim victory in the 800 run in just her second competition competing in the event.
"I saw that she was so close," Burkey said. "I thought I could catch her. I pushed harder until I caught up to her. I thought there was a good chance to get there. I just started going and then I thought, 'Yeah. I'm going to get it.' "
Lauren Dolak of Fitch battled some foot pain to win the 1,600-meter run.
"I just wanted to go out and run a good time," Dolak said. "The weather was good and the conditions were perfect to run a PR. Definitely, the last 200 meters were the best part of my race, I think. Going in, I was hesitant because my foot was hurting."
Khala Cameron claimed a title in the long jump while Madison Skelly won the pole vault for the Falcons.
Canfield's Giovanni Copploe took the win in the 1,600 and Zach Gray of McDonald won the shot put. Caitlyn Marx of Salem won the discus and Izzy Kline of Newton Falls won the shot put.
More like this from vindy.com