Safe at a new home: Baseball helps Rosa adjust to move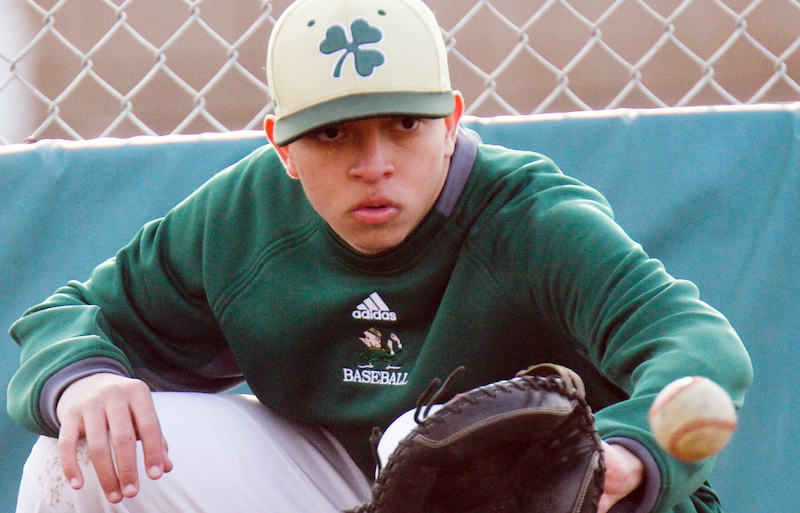 ---
Hector Rosa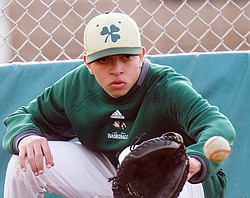 Gallery
Ursuline baseball player Hector Rosa came to Austintown after his family's home was destroyed by a hurricane in Puerta Rico.
By TOM WILLIAMS
williams@vindy.com
YOUNGSTOWN
Baseball's universal language is helping a survivor of hurricanes Irma and Marie adjust to his new home in the Mahoning Valley.
In late November, Hector Rosa, 16, enrolled as a sophomore at Ursuline High School. Almost immediately, he was asked by students if he played sports. He has. He's been playing baseball since he was 4.
They wanted to know if there were photos or videos of him playing.
Not exactly.
Hector's family moved to Youngstown two months after Hurricane Maria destroyed their home in Las Piedras, Puerto Rico, a small town about 40 miles from San Juan.
"They practically lost everything," said Johnny Santana, a Youngstown resident for three decades who is the uncle of Hector's father Angel.
English is not Hector's primary language. Imagine having your home blown away, then two months later your family is uprooted with a move to Ohio where winter now includes snow in late April.
What touches the heart about the Rosa family's journey is that they are American citizens who are victims of government incompetence as well as deadly winds.
But thanks to baseball, Hector again feels part of a team and a community as he begins to grasp more of the language.
And thanks to Ursuline freshman Cristian Perez, Hector has a friend whom he trusts. Perez, who was born in Queens, N.Y., is fluent in Spanish. Perez's family is from Guatemala. His skills have helped Hector earn the chance to call pitches from behind the plate.
"He's been as important as any other member of the coaching staff," Ursuline coach Matt Weymer said of Perez.
STORMS
Last September, Puerto Rico was bombarded by two Category 5 storms, first Hurricane Irma, then Hurricane Maria two weeks later.
"It was terrifying," Hector's mother Rose Navarro said of Maria, noting that some areas already lacked power because of Irma. "I was so nervous."
During the storm, she said she "went to the living room, the bedroom, the kitchen, the bathroom — it was crazy, it really was."
She said the winds were so powerful that they could be felt coming up from the house foundation. The family eventually sought shelter elsewhere because they were afraid their house was going to cave in.
Through Cristian, Hector said the winds are "what scared him the most."
Rose had experienced hurricanes many times growing up on the tropical island.
"They were powerful, but nothing compares to Maria," she said. "Maria was very hard, scary and terrifying."
After the deadly winds faded, there was no power and no water. Toilets didn't flush, showers didn't turn on, food couldn't be preserved, stores couldn't open, restaurants couldn't serve, phones didn't work.
"The first two days after the hurricane, everything was closed," Rose said. "There was no food to buy, gas."
The impact?
"Devastating," she said. "Those two days were very hard to get food, to get gas."
The survivors had to rely on rationed supplies.
"[But] you could only purchase X amount of items," Santana said.
Schools, the ones that weren't damaged, were converted into shelters.
Life was anything but normal.
FAMILY
A week passed before Santana found out his relatives were safe.
"That was the worst seven days of my life," said Santana, who was raised in Puerto Rico then came to Youngstown when he was 19 in 1987. "Where we grew up, where they lived is where the hurricane made landfall.
"All I did was just watch The Weather Channel constantly. My wife [Christine] said, 'Stop watching The Weather Channel, you're going to go crazy.'"
Phone calls did not go through and the Internet had no updates because the towers weren't functioning.
Santana knew the structures in and around Las Piedras weren't built to withstand 180 miles per hour winds.
Eventually, the storm survivors learned that a cell tower near San Juan was working. Contact with families on the mainland was restored.
Santana told his nephew that if that if his family decided to relocate, he'd send airplane tickets.
"We will work it out," he promised.
Weeks passed, conditions didn't improve and schools were shut down.
It was time to leave.
WINTER
"It will be a shock to your system," Santana advised his family of Ohio winters.
Their journey to Ohio include a plane change in Philadelphia where the family walked across the tarmac to the terminal.
Hector's description of winter: "Crazy, it's crazy."
Over the years, Hector has been a shortstop, center fielder and third baseman. He could play year-round.
His favorite position is catcher.
"The ability to control the game, making the calls" is what he enjoys.
That can be a problem when everyone one is speaking a language you're learning.
URSULINE
Santana says the family feels humbled that Ursuline has provided help.
"The school has offered him a lot of support," said Santana, crediting Spanish teacher Paulina Montaldo for going above and beyond. Santana's son AJ, an Ursuline student, pitches in as does his sister Maria, a recent Ursuline graduate.
It has been anything but easy.
"We force him to speak English," Santana said.
Sometimes, Hector proves he's human.
"I remember the first couple of times he would get really frustrated," Santana said of trying to find the right words. "He would say, 'I just didn't know how to say it.'"
Santana can relate — English was new to him when he relocated.
BASEBALL
Hector tried out for the baseball team and made it. Cristian tried out, but didn't make the final cut.
Weymer, who teaches at Springfield High School, knew his staff would need help with someone learning English so he made Cristian an offer to be a part of the team as varsity student manager.
Hector's English "has gotten a lot better' since we first met," Weymer said. "We knew it was going to be an issue, so we were fortunate enough to have Cristian."
Cristian serves as Hector's translator. Sometimes, he'll go out to the mound with Weymer to make sure everyone understands his message.
"I'll tell [Hector] something, then he'll look at Cristian and Cristian will rip off some phrases and we think we're good," Weymer said. "It's like the United Nations out there."
Cristian said," It's wild."
Weymer said Cristian spends plenty of time with his staff.
"He's as much a part of the team as any kid that plays for us," Weymer said. "He's at everything."
Cristian is Hector's safety valve, "Weymer said, and knows how to send up a "distress signal.
"Whenever he gets confused, you can hear him yell, 'CRIS-tian.'" Weymer said.
"[Cristian] wanted to be a part of it, so this worked out perfectly," Weymer said.
Hector didn't play right away as he awaited OHSAA eligibility.
Now, Weymer said Hector and Jake Freisen, last year's catcher, are splitting the position.
"I don't know we would say we have a starting catcher," Weymer said. "Jake's been a big help."
Things don't always go as planned.
"The language has been a barrier," Weymer said, admitting sometimes he and his staff get nervous. "We've [messed] up more than a couple of times."
Weymer said Cristian's presence provides a "comfort level" but he admits he sometimes walks away wondering if everyone is on the same page.
"So it's been challenging," Santana said for the family and team.
Weymer said the coaches "really try to stress that with him that if you don't understand, ask. We've even started texting a little bit. He does better when the words are in front of him."
Hector chimed in: "I use the translator app," drawing laughs.
ON DECK
Hector's brother Angel Jr. is a student at St. Rose in Girard where Christine Santana teaches.
Rose says Ohio is now their home.
"It's been kind of hard," she said, thinking of friends and family still in Puerto Rico. "That's my home, but I have to move on.
"I don't want to spend time feeling sad."
What makes her smile is watching games at Cene Park and hearing the public address announcer.
"When they say his name [over] the microphone, 'Hector Rosa,' I go, 'Oh my,'" she said.
"In Puerto Rico, you get in the field and you play.
"We scream, we do all of that stuff, but when I hear his name [on] a microphone, I go, 'Oh my God, that's my [child]; that's mine.'
"I will scream."
Weymer said Hector will play in the Class B League this summer with several of his Irish teammates.
Weymer sees the challenges of today evaporating over the next two seasons.
"He's going to be here for a couple of more years," Weymer said. "He's been working hard on his English.
"Hopefully by next year, having this experience and hopefully having a better grasp of the language, a lot of [current] problems will alleviate themselves."
More like this from vindy.com