Phantoms clinch berth in final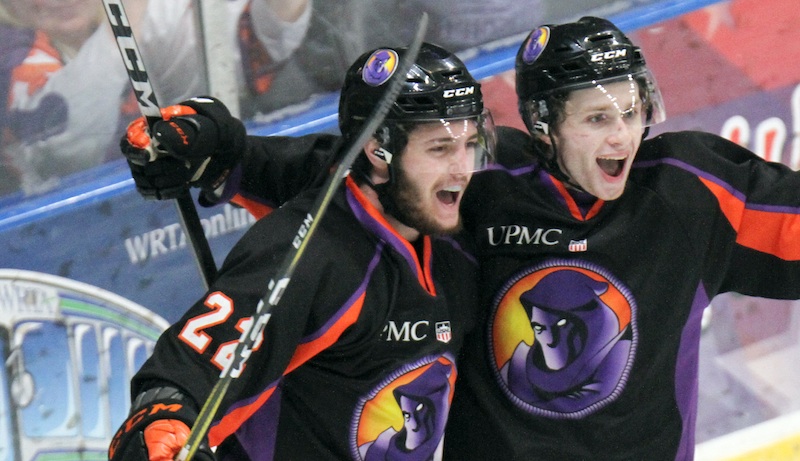 ---
Phantoms vs USA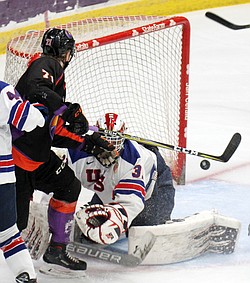 Gallery
By TOM WILLIAMS
williams@vindy.com
YOUNGSTOWN
For the first time in the Youngstown Phantoms' nine-year history, the USHL's Clark Cup is coming to town.
The Phantoms stifled Team USA's potent offense in a 5-1 victory Saturday at the Covelli Centre. The biggest win in franchise history gives the Phantoms their first Eastern Conference playoff crown and a shot to play for the junior hockey league's version of Lord Stanley's chalice.
Their opponent will be the Fargo Force, which eliminated the Waterloo Blackhawks on Saturday. The Force won the Western Conference with a 3-1 series triumph.
Team USA scored 18 goals in the first three games of the best-of-five series, but couldn't solve goaltender Ivan Prosvetov in round four despite several quality chances.
"He made some very timely stops," Phantoms head coach Brad Patterson said. "That's what you need at playoff time.
"You're going to give up a chances, you're playing against the best teams," Patterson said. "When we did, Ivan was there and that was a huge confidence builder for us."
Phantoms captain Eric Esposito, who scored one of the team's two empty-net goals late, said the difference from the previous 10-6 and 7-5 games was "definitely taking care of the puck in the neutral zone.
"We kind of got away from our game, that 10-goal game especially," said Esposito who is completing his third season here. "And they are skilled, they were able to put some pucks into the net off our turnovers."
Team USA scored first when Ryan Siedem sent the puck from out of the corner and Erik Middendorf redirected it past Prosvetov.
But a pair of 2-on-1 breaks in the first period put the Phantoms in front. First, Max Ellis slipped the puck to Dalton Messina, whose shot eluded Team USA goaltender Cameron Rowe.
Minutes later, Matthew Barry backhanded a pass to Michael Regush, whose shot made it 2-1.
"There have been some great players come through here," said Regush of winning the conference, "and I think that just speaks to how good our team is, how deep our team is.
"It means a lot to us to get this [opportunity]."
Regush said the clincher was much closer than the final score indicates.
"They had their chances," Regush said. "You have to give a lot of credit to Ivan. He was fantastic for us, made the big saves when we needed them.
"He was a stud and closed it out for us."
Early in the second period, Barry scored from near the boards for a 3-1 lead.
Team USA fired 33 shots at Prosvetov. That doesn't include the shot Trevor Zegras rang off the crossbar with 3:20 remaining with the Phantoms clinging to a two-goal lead.
With 2:04 to go, Prosvetov's glove snagged another Zegras attempt.
With Rowe pulled for an extra skater, Esposito and Chase Gresock scored into the unguarded net to seal the victory.
Patterson, who has guided the Phantoms to the postseason in both years he's been head coach, called the tight game "playoff hockey to a T, a lot of momentum swings.
"They are one of the highest-scoring teams — astronomical plus/minus, 200-plus goals for," Patterson said of Team USA. "To shut them down is extremely tough to do."
In October, the Phantoms split two games with the Force in North Dakota (a 3-2 loss in overtime and a 4-3 shootout win). Dates haven't been announced, but Games 1 and 2 are expected to be played next weekend in Fargo, while Games 3 and, if necessary, 4 will be at Covelli Centre on May 18-19.
More like this from vindy.com