PENGUIN PROUD: YSU's Class of 2018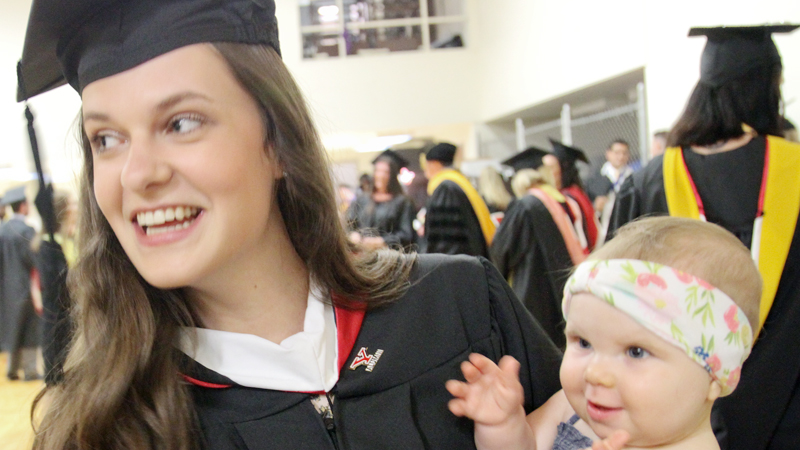 ---
By SAMANTHA PHILLIPS
sphillips@vindy.com
YOUNGSTOWN
Mary Yacovone always cheers on her students as they waltz across the stage with their diplomas in hand, and this year she also cheered for her children, now alumni of Youngstown State University.
Yacovone, the YSU Respiratory Care Program director, beamed during both YSU spring commencements Saturday as her son Trevor Yacovone earned his bachelor of science in business administration during the 9:30 a.m. commencement, and her daughter Cara Yacovone earned a master of arts in history during the 2:30 p.m. commencement.
"Wherever they go, I hope they are always happy. It's not all about the money – I want them to be content," Mary Yacovone said. "This is the beginning of their journey.
YSU President Jim Tressel encouraged the new graduates to set their goals high and "increase their excellence."
Cara Yacovone, 28, of Austintown said she worked 21⁄2 years to earn her master's. She also has bachelor's degrees in anthropology and history.
She worked at PetSmart to pay for tuition and also snagged a graduate assistantship in the history department during her last year of school.
Inspired by her internship at the Youngstown Historical Center, she plans to pursue another master's degree in Library Science and maybe do archival work for a museum someday.
"Without the support and guidance of the history department, especially Donna DeBlasio and Martha Pallante, I would not be where I am today," she said.
Mariah Bianco, 24, of Sharon, Pa., was thrilled to receive her nursing bachelor's degree, but the moment felt bittersweet as she and her fellow nursing graduates, who have become close to one another, know it's time to go their separate ways.
Some classes were a struggle, but with discipline and focus they got through it, she said.
Bianco plans to move to Pittsburgh and work in the pediatric field.
Kenneth Agosto earned his liberal arts and science associate degree. Next on the list is to study graphic design and animation at Full Sail University in Florida.
"Overall, going to school here was a pleasure," he said.
University officials said about 1,676 students graduated in the Spring 2018 commencement.

This year is the first time the school has graduates from its new master of athletic training program.
Grammy-winner Bill Bodine, the keynote speaker for the afternoon commencement, helped establish YSU's jazz band program, and also established the Tony Leonardi Memorial Jazz Scholarship. He lives in Los Angeles but stays connected with YSU.
Bodine brings music professionals to seminars at the school, and co-founded the Creative Bridge Coalition, which engages in projects that serve Youngstown City Schools, Columbiana County schools and Fairhaven School.
Bodine, a Youngstown native, dropped out of YSU in 1973 to chase his dreams of working in music when he was offered the chance to tour with another Youngstown musician.
Over the past several years he toured with musicians such as Van Morrison, Olivia Newton John and Peter Criss. He has arranged music and composed scores for over 300 commercials for popular brands and for television shows through his production company.
Get serious about your passion and connect with others in the field, was his advice to graduates.
Tressel awarded Bodine an honorary doctorate in music.
The morning commencement speaker was Brian Wolf, an education advocate and philanthropist.
He was awarded a honorary doctorate in humane letters.
The student speaker for the 2:30 p.m. commencement was Ryan Portela. His path to earning a double bachelor's degree in political science and geography was anything but typical.
Portela, a son of immigrants, knew at age 18 he had to make a choice, but wasn't sure he could afford college.
"I wanted to give back to a country that's been good to me and my family, and to really have an opportunity to change my life altogether," he said.
He left his family and home in New Jersey to join the Army. Four years later, he came to YSU, with a GI Bill to pay for tuition.
The support of his family, professors and classmates, whom he grew close with over the years, has been vital. Potella also thanked the veterans resource center at YSU for its services.
Rachel Emerson of Leetonia was the 9:30 a.m. student speaker. She earned a degree in middle childhood education with a concentration in math and science and a minor in art.
More like this from vindy.com