Easy Street reunites most of cast for musical 'Pump Boys' is back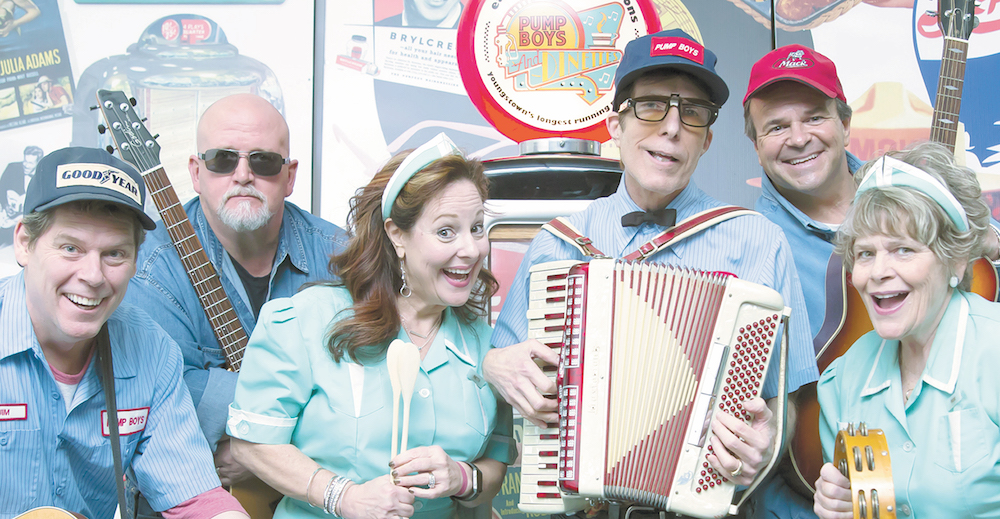 ---
IF YOU GO
What: "Pump Boys and Dinettes"
When: Friday at 7:30 p.m.; Saturday at 2:30 p.m. and 7:30 p.m.;and May 13 at 2:30 p.m.
Where: Ford Family Recital Hall, 260 W. Federal St., Youngstown
Tickets: $35 (Gold Circle); and $32 for general admission ($26 for senior citizens and military, and $20 for students). There is also a handling charge. Group discounts are available.
Dinner: Chef Jeff Chrystal will offer a Mother's Day buffet on May 13 in the lobby of the adjacent Powers Auditorium and Overture Restaurant. For ticket and/or dinner reservations, call the box office at 330-744-0264 or go to YoungstownSymphony.com
By GUY D'ASTOLFO
YOUNGSTOWN
Easy Street Productions will bring back "Pump Boys and Dinettes" with most of the original cast and a whole lot of original gas-station memorabilia.
The troupe made its name with the lighthearted musical 30 years ago, and seems to "own" the show like no other.
"Pump Boys" is a day in the life at a friendly diner-gas station –"where you can eat and you can get gas" – on a stretch of two-lane somewhere between Frog Level and Smyrna, N.C.
Waitresses and gas pumpers at the Double Cupp Diner share songs and humor about family, food and life with country and rockabilly songs. The time frame is the 1950s.
Easy Street first introduced the musical as a segment of its "429 Miles Off Broadway" revue, which opened in 1988 and ran for an incredible two years at the old Uptown Theater.
"Pump Boys" will be performed at Ford Family Recital Hall at 7:30 p.m. Friday, 2:30 p.m. and 7:30 p.m. Saturday, and 2:30 p.m. May 13. An optional Mother's Day buffet dinner can be reserved for the May 13 show.
Easy Street brings the show back every five years or so, most recently in 2013. "Pump Boys" may not be a weighty work like "Les Miserables," but it does have a following with a serious love for its jovial spirit.
"There is a cult appeal to it, almost like 'Rocky Horror Show' and those kind of musicals that people see over and over," said Todd Hancock, co-director of Easy Street "Some people saw it 15 or 20 times over the two years it was at the Uptown. It's not so much a story, just six people having a ball on stage, and everyone can relate to the music."
Part of the show's charm is in its plain-spoken lyrics about life, family and fun. Those can be traced to its country music roots – even though, as Hancock noted, the musical genre wasn't so cool when "Pump Boys" premiered.
Over the years, Easy Street added its own spin and polish to the show, which sets it apart.
"We switched a lot of things around that get a lot of laughs and that aren't necessarily written into the script," he said, adding the Easy Street cast "inhabits the characters" without overplaying the "Hee Haw" humor that diminishes some theaters' productions.
Adding to the authenticity is a set that includes actual vintage automotive signs and items that are on loan from local collector Jerry Dixie of Youngstown.
Dixie, an auto enthusiast and owner of Classic Automobilia in Austintown, also lent Easy Street a hot rod, that will be on stage during the performances.
"It's as authentic a 1950s garage that you will see anywhere," said Hancock.
The cast of "Pump Boys" includes original members Hancock, Easy Street co-founder Maureen Collins, Robyn Bass, Rick Blackson and Don Creque, plus newcomer Randy Bass in the role played by the late Jeff Sanders.
The reunion show is being dedicated to Sanders, who died suddenly last year. Sanders was a founding member of the troupe and served as Easy Street's musical director for more than 25 years.
Bass is a musician and Youngstown native who is married to Robyn. The couple operate an events company in Nashville.
While his character has only a few lines, it supplies the musical backbone, which Bass will provide with a guitar and – new this year – a mandolin.
More like this from vindy.com