Campbell City Hall provides safe drug storage box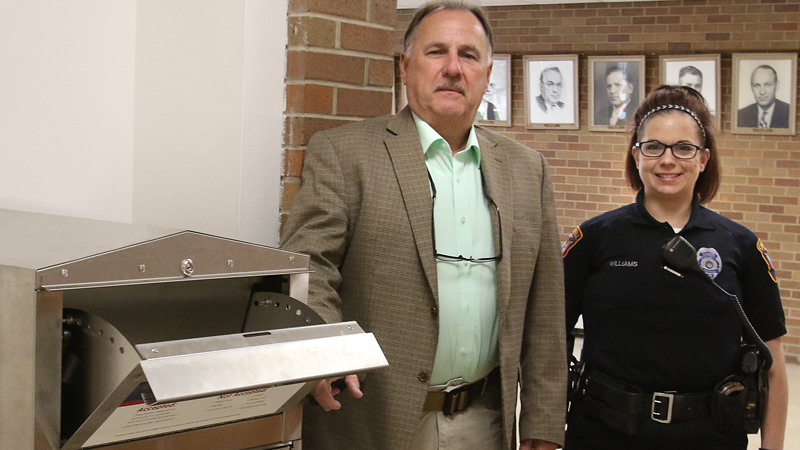 ---
CAMPBELL
The Campbell Police Department's newest tool in fighting the opioid epidemic is a metal box.
The box is a secure drug drop-off box, and the department hopes it will help reduce the amount of unused prescription drugs in the community.
Officer Melissa Williams, who engages in community and senior outreach, said the box was brought in to provide individuals with a safe, anonymous way to dispose of their drugs.
"There's a lot of benefits to having the box. This way people won't have unused drugs sitting around, it's an environmentally friendly way of disposing of the drugs, and it helps people feel more safe," Williams said. "I had a senior tell me the other day she was worried that her extra pills might attract thieves. This provides a safe way for her to get rid of those extra drugs."
According to research published in the Journal of the American Medical Association in 2017, between 67 percent and 92 percent of patients who underwent surgeries reported having unused opioids after their procedures.
Of that group, the rates of safe storage and/or disposal of the opioids was "low," according to the study.
Theft or abuse of unused opioids has been a consistent source of overdose deaths in the United States since the mid 2000s. A National Institute of Health study revealed that 17,000 overdose deaths in 2015 could be attributed to the abuse of a prescription opioid. Those numbers exclude deaths from fentanyl, which is a synthetic, illicit opioid.
Campbell Police Chief Dennis Puskarcik said that improperly stored or disposed of opioids are frequently how young people begin the descent into addiction.
"A lot of times, kids get started on the drug path by using or selling their parents' or grandparents' leftover pills," Puskarcik said. "Having a place where people can safely dispose of their prescription drugs addresses the problem at its root."
Williams said the box will be checked once a week and any collected drugs will be incinerated.
Individuals can dispose of prescription medications and over-the-counter medications in the box. Sharps, illicit drugs, liquids and lotions, inhalers, hydrogen peroxide and aerosol cans are not permitted in the box.
More like this from vindy.com