Benson, Atkinson, Woods, Kapics earn first Greatest wins of 2018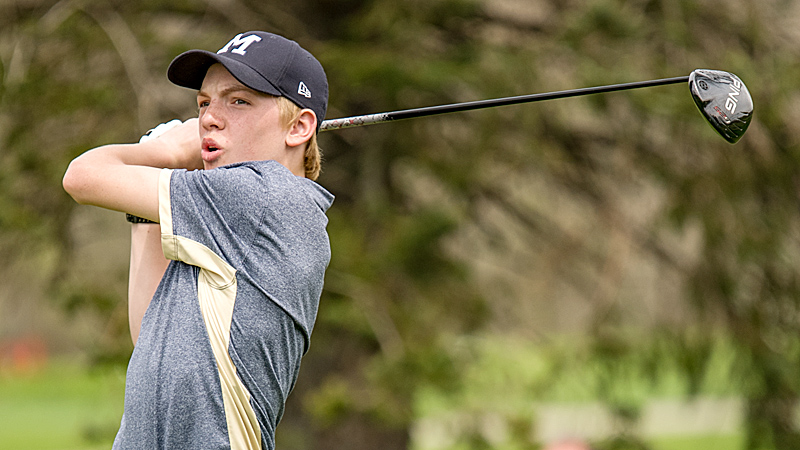 ---
By TODD FRANKO
tfranko@vindy.com
HUBBARD
The opening event of the 2018 Greatest Golfer of the Valley was settled Sunday by tight battles in the two u17 juniors divisions. In the u14 girls play, the 2017 champ is on her way to repeating for 2018.
In play at Pine Lakes Golf Club, Justin Atkinson of Yankee Run Golf Course bested Alex Rapp of The Lake Club by one stroke, 76 to 77, to win u17 boys.
The Brookfield student carded two birdies on the day and was actually headed for an under-par round before a triple-bogey on 15 cost him that.
He held on though. It's a good start following up on an 11th-place finish in last year's Greatest championship. He said this year will be different.
"I'm definitely on a mission."
Jacob Snyder of The Lake Club finished in third with an 82.
In the girls u17 division, Kyra Woods of Tam O'Shanter Golf Course carded an 85 to win by two shots over Jenna Jacobson of Mill Creek Golf Course.
Woods, a sophomore at Hickory High School, is in her second year of Greatest. Birdies on holes 3 and 14 powered her round.
"On No. 3, I hit an iron shot to 10 feet. The putt curved right and in."
The two players went back and forth all day — right up to No. 18. On the tee box, Woods just tried to keep it simple.
"I just wanted to stay focused on the tee shot. It was a good one."
Greatest Golfer of the Valley is an all-ages, summer-long series of golf championships produced by The Vindicator and sponsored by Farmers National Bank, Covelli Enterprises and Superior Beverage. The juniors play leads the event. Then in August, adult scramble championships, long-drive and ladies 2-person events lead up to the 320-player, 54-hole adults tournament. Information for Greatest is on www.vindy.com/golf.
All winners Sunday earn an automatic seat in the Greatest Golfer junior championship in July at Avalon Lakes and Squaw Creek golf courses.
In the u14 divisions Sunday, Dominic Kapics of Duck Creek Golf Course carded his best Greatest score ever, an 80, to win his division. The Austintown Fitch student birdied the par-4 No. 15 by placing his 100-yard iron shot to 4 feet from the pin for a straight-in birdie.
Second place went to Michael Porter of Avalon Lakes Golf Course, who shot an 81. Kaiden Sykes of Salem Hills shot a 91 for third place.
Leah Benson, the 2017 Greatest Golfer u14 champ, is off to another run in 2018, scoring an 82 to win the u14 girls division.
The Tam O'Shanter and Hickory High School freshman used a strong back nine holes to win. She scored a 39 on the back and 10 pars total on the day.
Second-place went to Alexandra Petrochko of Avalon Lakes, with an 86. Third-place was Jayne Bernard of Mill Creek Golf Course with a 93.
SCORES
==

u17 BOYS
76 Atkinson Justin Yankee Run Golf Course

77 Rapp Alex Lake Club

82 Snyder Jacob Lake Club

84 Vitali Joey Avalon South Golf Course

88 Koziel Kyle Mill Creek Golf Course

88 Nord Luke Lake Club

88 Hiner Jonathan Yankee Run Golf Course

89 Cene Nathan Duck Creek Golf Course

92 Bokan Zavier Mahoning Country Club

95 Sylak Jake Avalon Lakes Golf Course

98 Matig Tanner Mahoning Country Club

100 Liburdi Mason Hickory VFW Golf Course

104 Shelton Robert Avalon at Squaw Creek

106 Loychik Christopher Avalon South Golf Course

==
u17 GIRLS
==
85 Woods Kyra Tam O'Shanter

87 Jacobson Jenna Mill Creek Golf Course

96 Ungaro Carly Pine Lakes Golf Course

108 Mchale Eileen Flying B Golf Course

109 Ogden Hannah Mill Creek Golf Course

112 Shaw Kristen Mill Creek Golf Course

118 Gardner Kylie Bristolwood Golf Course

121 Stoneburner Megan Lake Club

131 Liddle Mary Mill Creek Golf Course

137 Zarbaugh Laurel Pine Lakes Golf Course

==
u14 BOYS
==
80 Kapics Dominic Duck Creek Golf Course

81 Porter Michael Avalon Lakes Golf Course

91 Sykes Kaiden Salem Hills Golf Course

93 Kelly Nathan East Liverpool Country Club

107 Cesario Anthony Yankee Run Golf Course

==
u14 Girls

==
82 Benson Leah Tam O'Shanter

86 Petrochko Alexandra Avalon Lakes Golf Course

93 Bernard Jayne Mill Creek Golf Course

120 Yurich Sophia Lake Club

More like this from vindy.com