Gresock's 4 goals power Phantoms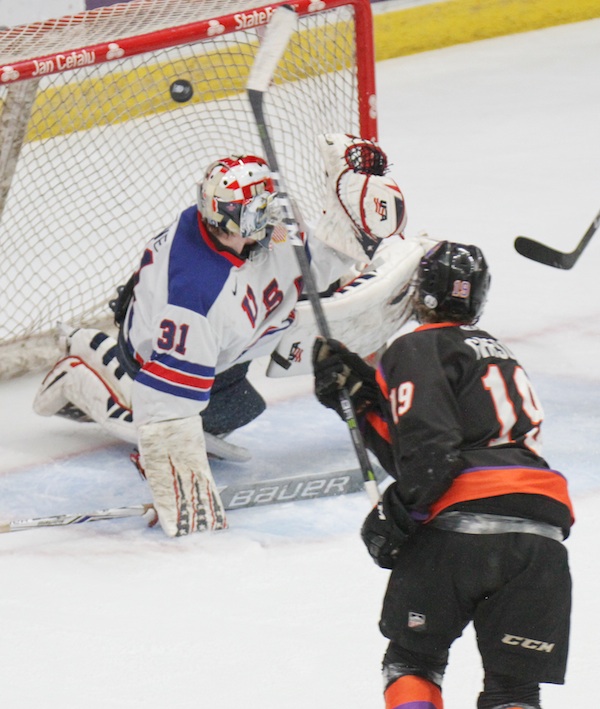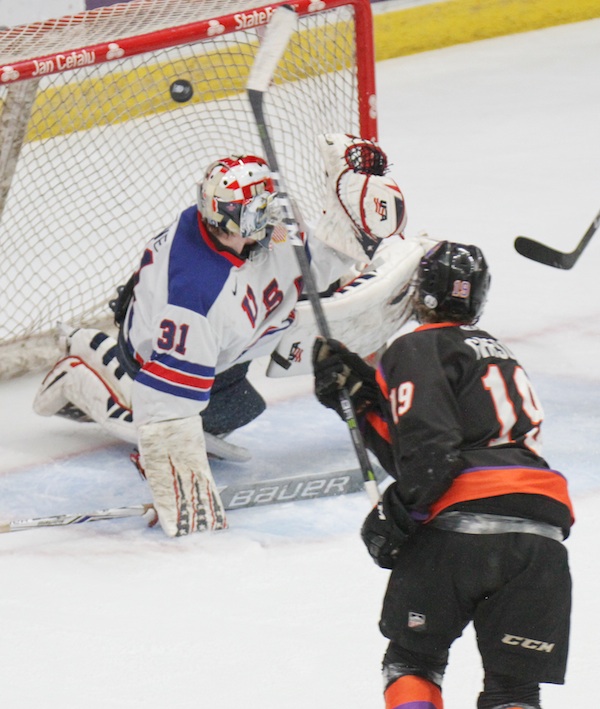 ---
By TOM WILLIAMS
williams@vindy.com
YOUNGSTOWN
After a humbling loss 48 hours earlier, the Youngstown Phantoms responded by copying Team USA's dynamic offensive style.
The Phantoms pummeled goaltender Cameron Rowe for a half-a-dozen goals Friday at the Covelli Centre in grabbing control of the USHL's Eastern Conference Finals.
Chase Gresock scored four goals to set a franchise playoffs record in a 7-5 victory.
"He's got a nose for the net," Phantoms head coach Brad Patterson said. "He knows what to do with it when he gets the puck. [His] linemates were finding him tonight."
The win has gives the Phantoms a 2-1 lead and has them one victory away from qualifying for the Clark Cup Finals for the first time. Game 4 is set for tonight.
"We're pretty excited," said Gresock after he and linemates Mike Regush and Matthew Barry combined to score 10 points.
The win came two nights after Team USA won Game 2 by a 10-6 margin in Plymouth, Mich. Barry admitted the ride home wasn't easy, but there were positives.
"That game was one of the craziest games I've been a part of," Barry said. "We felt like we dominated most of the second and third period of that game.
"So we actually felt pretty good coming home," the team's leading scorer in the regular season said. "We were excited to be back at the Covelli."
Two quick goals put the Phantoms in control early. First, Jason Smallidge's shot from the point eluded Rowe. Then 76 seconds later, Gresock pounced on a loose puck and fired it into the net.
"Matt Barry forced a turnover and I had a shot in the slot," Gresock said.
Henry Thrun's power-play goal late in the first period sliced the Phantoms' lead to 2-1.
But just 24 seconds later, Gresock scored again after stripping the puck from a defenseman behind the Team USA goal. He skated out front and surprised Rowe for a 3-1 lead.
"He's very good at picking [off] pucks," Patterson said.
The game was far from over, even after Gresock earned his hat trick just 69 seconds into the second period.
"Nice backdoor pass from [Regush]," Gresock said of the cross-ice feed.
Five minutes later, Erik Middendorf's power-play goal set up by Danny Weight reduced the lead to 4-2.
But shortly thereafter, Gresock had his fourth goal, this time set up by a sharp pass from Barry.
Jake Gingell scored in the third period for a 6-3 lead. After Weight scored a power-play goal with Rowe off the ice with 2:23 remaining,
Dalton Messina scored the Phantoms' seventh goal into the empty net and Owen Lindmark had the final goal, also with Rowe pulled for an extra skater.
Rowe stopped 33 shots. Phantoms goaltender Ivan Prosvetov stopped 21 shots to win his fifth playoff game in six contests.
Patterson described the game as one "coaches probably don't like.
"You don't expect those in the playoffs," said Patterson, referring to Games 2 and 3. "You expect them to be tight."
Midway through the second period, referee Erik Krasnichuk left the game after a collision, but returned before the period ended.
Twenty-seven penalties were called. Patterson said need to be careful.
"The more opportunities you give them, the more opportunities and looks they are going to have at the net," Patterson said. "That's an area where we need to be better [tonight]."
Team USA converted on three of their eight man-advantage chances. The Phantoms scored twice on nine power-plays.
More like this from vindy.com