910th Airlift Wing presents new tailflash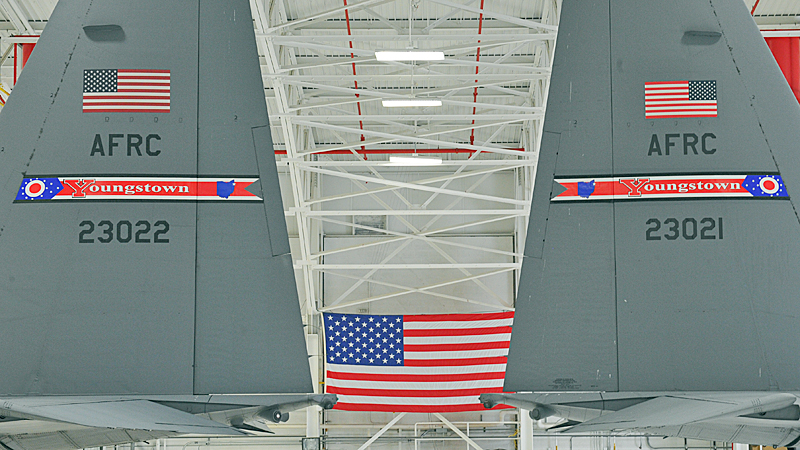 ---
Staff report
VIENNA
The 910th Airlift Wing introduced a new tailflash design Thursday for the wing's fleet of C-130H Hercules aircraft.
A tailflash is placed on the vertical stabilizer of Air Force aircraft to identify the base to which the aircraft is assigned.
The new 910th tailflash will incorporate stylized graphic elements of the Ohio flag, Youngstown State University's block "Y" incorporated into the word "Youngstown" and the map of the state of Ohio with a star depicting the approximate location of YARS.
The design of a new tailflash was directed by 910th Commander Col. Dan Sarachene to strengthen the recognition factor of the 910th's aircraft fleet while performing missions around the world and across the country.
The new tailflash will be first flown on the 910th's new flagship, Aircraft 022. Aircraft 022 also is emblazoned with the wing commander's name. Within the coming months, all of the 910th's assigned aircraft will sport the updated design.
In addition, a new nose art design was presented celebrating the 75th anniversary of the 910th's flying squadron, the 757th Airlift Squadron.
The history of nose art goes back to the dawn of the aviation age and has been a morale booster to the airmen who have taken to the skies ever since. Examples of nose art include the "Let's Roll," unveiled in 2002, and the "Pride of Youngstown," "Tailwind," "Humanitarian Missions" unveiled in 2009 and 2010 and "Ohio State Highway Patrol Flying Wheel" nose artwork unveiled in 2017.
More like this from vindy.com