Infante takes stand, denies crimes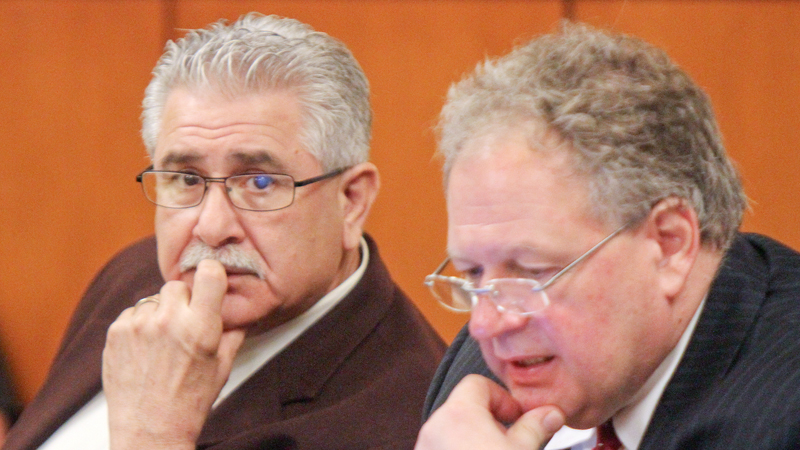 ---
By ED RUNYAN
runyan@vindy.com
WARREN
Former Niles Mayor Ralph Infante took the witness stand late Thursday in his corruption trial, denying the many criminal offenses he faces, in many cases replying "absolutely not" when his attorney recounted allegations voiced by earlier witnesses.
Infante denied taking bribes for jobs, doing favors for former Cafaro Co. President Anthony Cafaro Sr., making money off football-pool gambling, putting $1,000 annual cash gifts from a city employee in his bank account, steering a contract to friend Tom Harwood and other allegations.
He acknowledged under direct examination from his lawyer John Juhasz he should have abstained from being involved in the retire/rehire of his brother to a city position, and said he didn't realize he and his wife, Judy, should have been paying taxes on the tips she earned working at their former bar, the ITAM No. 39 in McKinley Heights.
"We were told that we didn't have to because of five employees or fewer," Infante said. He and his wife later amended their tax returns to report the income, he said.
When Dan Kasaris, special prosecutor, got his chance to question Infante on cross-examination, Kasaris zeroed in on an audio recording played for the jury at the start of testimony in which Infante told FBI agent Deane Hassman he had gotten $8,000 worth of tickets to the 2007 college football championship in Arizona for free from Cafaro or his son and didn't report them on state ethics forms.
But the hour was late, and visiting Judge Patricia Cosgrove adjourned for the day. Cross-examination resumes at 9 a.m. today, the trial's 10th day. Infante may be the final witness.
When questioned by Juhasz, Infante testified he didn't know the rules associated with the retire and rehire of his brother, Joe Infante. He said he never put money from his annual chicken roast fundraisers in his personal bank account.
Juhasz asked Infante whether city employee Terry Clay ever asked Infante "to hire [Clay's] buddy, Norwood McNamara, in exchange for tree cutting on your property."
Infante responded: "Not that I can recall."
Infante, 62, is facing 33 criminal charges, down from the 41 at the start of the day. Infante was Niles mayor 24 years ending in 2015.
Before defense witnesses began to testify Thursday, Judge Cosgrove dismissed three felony bribery counts and five misdemeanor charges against Infante.
Two bribery counts were based on allegations by Gabriel Marchionte that Infante hired Marchionte's two sons in the 1990s because Marchionte gave Infante $500 to $1,000 two times.
Marchionte testified he "pulled out [the cash] and said I'd appreciate it if he gave my son a job." But by that time, the first son had already been hired, Marchionte testified.
Juhasz told the judge he believed that was not illegal. Kasaris said in Ohio it doesn't matter if the payment comes before or after the job is given, but the judge agreed with Juhasz.
The judge agreed with Kasaris to dismiss another bribery count that alleged Infante hired a contractor's son to a city job after the contractor did work at Infante's house.
The judge also agreed to dismiss five misdemeanor counts of soliciting improper compensation at Kasaris' request. Kasaris said the reason was witness Karen DeChristofaro testified "completely differently" Tuesday compared to what she told investigators before the trial.
There originally were eight bribery counts; there are now five, including counts stemming from allegations from city employee Scott Shaffer, who said he paid Infante four times for jobs and a promotion for himself and two friends.
Infante said "Absolutely not," "No" and "Nope" when asked about Shaffer's allegations.
When asked whether he was the reason water employees went to Eastwood Mall to fix a waterline break and replace a valve despite the city not being responsible for repairs on private property, Infante said, "No, we always did that."
Infante admitted he ran a $30 block pool and a $300 block pool, both gambling games, but he did not earn profit from them.
Another defense witness was Michelle Sudzina, Infante's stepdaughter and daughter of his wife, Judy. Sudzina testified she and her husband, John, filed for bankruptcy because she couldn't work 21⁄2 years because of health issues.
She said the bankruptcy made it impossible for them to get a home loan, so the couple bought the home they share on
Rhodes Avenue in Niles with the Infantes and pay the Infantes each month half of the mortgage and other bills.
They also pay the Infantes as much as they can each month for upgrades done to the house, such as a swimming pool and appliances. Sudzina said she calculated she gave the Infantes about $95,000 in cash because of the house.
Forensic accountants from the Ohio Auditor's Office have testified they documented more than $100,000 in unaccounted for cash deposits going to the Infantes' bank accounts near the end of Infante's time as mayor.
More like this from vindy.com