CHS students introduced to fitness activities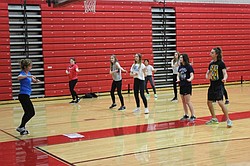 Photo
Neighbors | Abby Slanker.Canfield High School physical education students learned Zumba dances from CHS choir teacher and Zumba instructor Kelly Scurich (left) on April 18.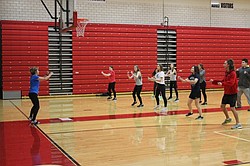 Photo
Neighbors | Abby Slanker.Canfield High School choir teacher and Zumba instructor Kelly Scurich (left) taught a Zumba class to physical education students on April 18.
By ABBY SLANKER
From yoga to cross fit, and from kickboxing to Zumba, physical education students at Canfield High School have spent the past few weeks with several guest instructors.
The physical education students had the opportunity to learn about two different physical activities the week of April 16. On April 17, students learned the fundamentals of ATA Martial Arts and kickboxing from Nick Vital of ATA Karate. On April 18, students learned Zumba from Kelly Scurich, CHS choir teacher and Zumba instructor.
Scurich addressed the students before she began the class.
"Zumba uses mostly Latin music so I am going to teach you some Latin steps. Don't let it scare you if you don't know what's going on right away," Scurich told the students.
Scurich began with a warm up and as she moved onto dances, she explained the moves of the dance to the students. She started with the Merengue and moved into the Salsa. Scurich then taught the students the Reggaeton two-step and then the percussion box step.
"This one is a lot of fun," Scurich said.
Scurich wrapped up her Zumba class to "No Excuses" by Meghan Trainor and closed with a cool down.
"Good job everybody. Thank you," Scurich said.
One of the goals of a physical education class is to promote a lifelong lifestyle that includes exercise.
Kristen Gennaro, CHS physical education teacher, said she wants her students to learn lifelong exercise habits.
"I want all my students to have a healthy lifestyle and that includes exercise. We promote lifelong fitness and I want my students to know there are a lot of different ways to achieve fitness. You don't have to run on the treadmill or use the elliptical to be fit. While these are great, there are other fitness activities everyone can participate it to keep fit. These activities, such as cross fit and Zumba, can get you out of your comfort zone and inspire you to try new things to be fit," Gennaro said.
More like this from vindy.com