CHS inducts students into National Honor Society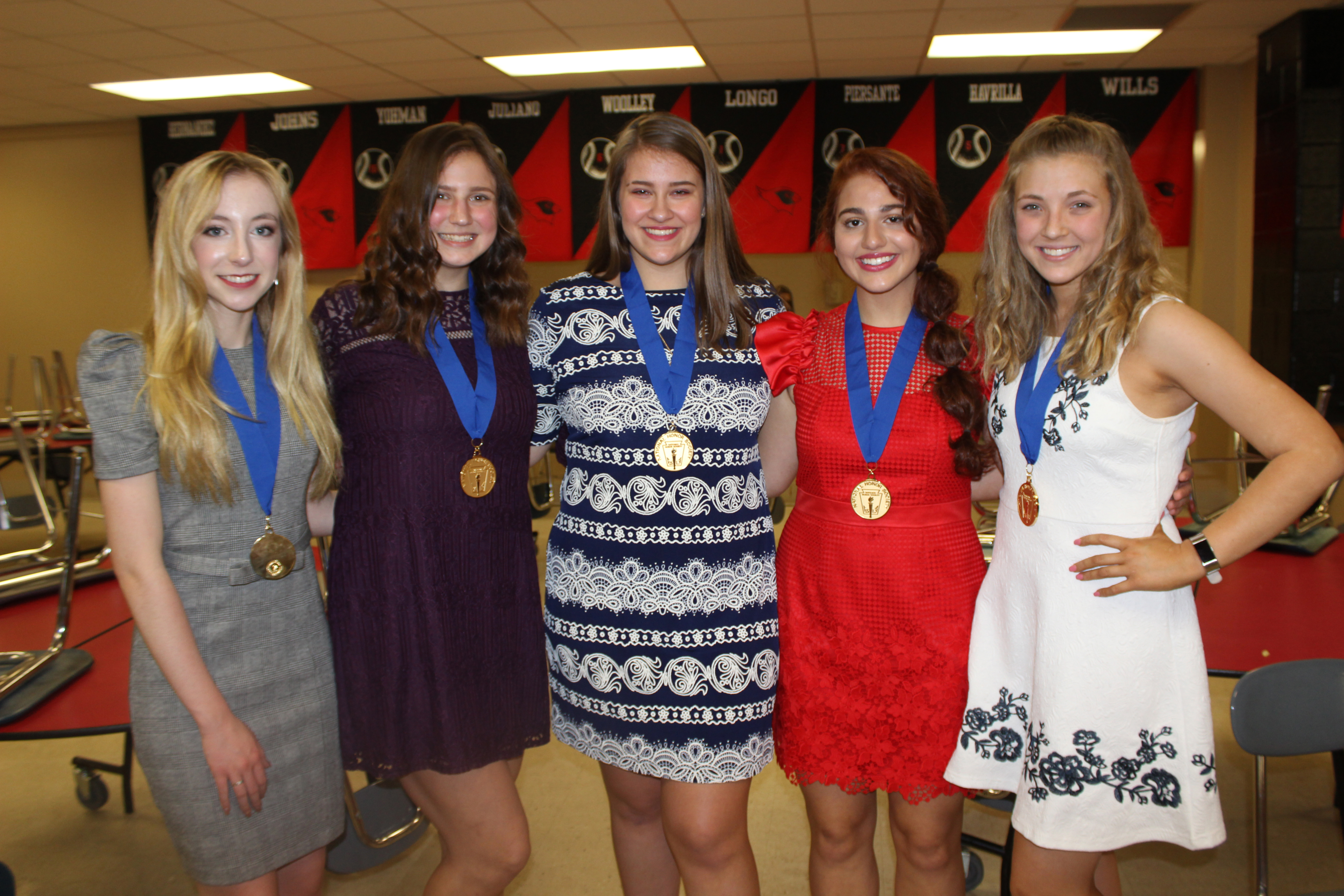 ---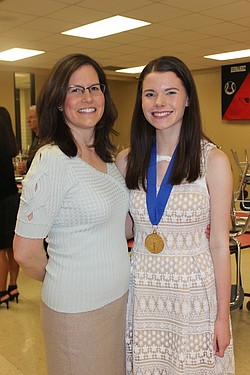 Photo
Neighbors | Abby Slanker.Canfield High School junior Claire Berlin was escorted by her mother, Christy, to the National Honor Society Induction Ceremony.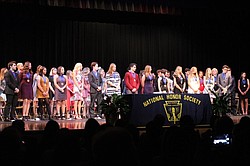 Photo
Neighbors | Abby Slanker.Canfield High School National Honor Society inductees took the NHS Pledge for Membership during the Induction Ceremony on April 25.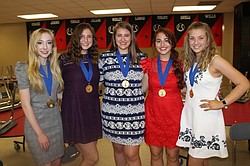 Photo
Neighbors | Abby Slanker.Newly-inducted Canfield High School National Honor Society members included, from left, Alexis Bernat, Brianna Remias, Lauren Slanker, Julia Petrallo and Britney Young. The juniors were inducted during the school's annual ceremony on April 25.
By ABBY SLANKER
Canfield High School had its annual National Honor Society Induction Ceremony on April 25, during which 59 students were honored by the society.
Students inducted into the society included Isabella Audia, Dania Bajwa, Kendall Bartels, Rachel Beil, Claire Berlin, Alexis Bernat, Mason Burbick, Dante Calabria, Sophia Campos, Mariah Cashbaugh, Mia Cayavec, Sydney Cianciola, Clare Crescimanno, Brooke Crissman, Maximilian Dawson, Dominic DeRamo, Stephen Duke, Constance Economus, Thalia Economus, Nicole El-Hayek, Gianna Flask, Emerson Fletcher, Kyle Gamble, Mary Gomez, Lexi Grdic, Gregory Halley, Hafsa Hassan, Marisa Head, Jad Jadallah, Aidyn Jones, Nicole Joseph, Sydney Karlock, Hannah Keffler, Candice Kraykovich, Jessica Lee, Joseph Marzano, Victoria Messuri, Cole Morell, Aleia Osborne, Luke Pallante, Julia Petrallo, Dominic Pilolli, Jacob Pitzer, Vincent Prologo, Brianna Remias, Gabriella Sammarone, Grace Schuler, Halle Schneider, Ben Shapiro, Evan Skripac, Lauren Slanker, Jennifer Smith, Philip Stanic, Jenna Troxil, Theresa Wasylychyn, Lindsay Wills, Britney Young, Emily Yurchison and Matt Zaremski.
The student inductees were escorted by their parents into the auditorium and each student was introduced to an auditorium filled with fellow students, family and friends. They were greeted by Canfield Local Schools Superintendent Alex Geordan, Director of
Curriculum and Instruction John Tullio and Principal Michael Moldovan.
As the students were introduced, Canfield High School National Honor Society co-advisers Tim Wensel and Mike Ruark greeted each one and presented them with the National Honor Society gold medal, which was placed around their neck. The students crossed the stage and signed the NHS membership book.
Current senior members of the society spoke on the four Pillars of the National Honor Society. Cara DeChurch spoke on Character, Samuel Accordino spoke on Leadership, Allison Leone spoke on Service and Sydney Lewis spoke on Scholarship.
"I believe character is based on how brave or courageous you are. The ability to be true to your morals and values is the true test of character. We are so different and unique in what we can offer the world, that having courage makes your character stand out," DeChurch told the inductees during her speech, after which she lit the candle for Character.
While speaking about leadership, Accordino told the students to lead by taking chances.
"Leadership requires responsibility. The trust of those you are leading is in you. Leadership is avoiding conflict and keeping peace. You must stand out. Lead by taking chances. You must have confidence, without which how do you lead a group of people," Accordino said, after which he lit the candle for Leadership.
Leone told the students you get out of Service what you put in.
"I have learned that you get more out of your service experience than you put into it. It is a challenge for people to put themselves out of their comfort zone, but they have grown so much by the end of their service. Even the smallest act of kindness does not go unnoticed," Leone said before lighting the candle for Service.
In her speech about Scholarship, Lewis told the students they must have a fire in their heart to succeed.
"You must be willing to give time and effort. You must have determination, character and most of all fire in your heart to succeed. The power of knowledge is immeasurable," Lewis said before lighting the candle for Scholarship.
Michael Strohecker, Canfield High School health teacher, was the guest speaker for the ceremony. Strohecker told the students to not let one accomplishment define them and to live a life of honor and love.
"We are here to celebrate the new National Honor Society students inductees. Their families should be very proud. I am here to tell them to never quit striving toward the four pillars. Don't let one event define you. Live a life of honor and love. The four pillars can be summed up to mean love. Develop a culture of honor in your life," Strohecker said.
Strohecker went on to tell the students to honor others.
"Honor others. Learn and grow from experiences and the wisdom of others. We have so much to enjoy and learn from one another. What if we all were a little more patient, kind, loving and honoring. We must have faith, hope and love and the greatest is love," Strohecker said
Wensel addressed the audience.
"In teaching, one of the most rewarding aspects is seeing students grow, not only academically, but in life. We are here to congratulate and publicly recognize our new inductees and encourage them to push higher," Wensel said.
Wensel awarded the Leadership and Service Award to senior and NHS President Cara DeChurch.
"Cara personifies service. She went above and beyond, with more than 150 community service hours. Her passion is the theater and has used her talent to help choreographed shows at the middle school for those students and has helped many other organizations," Wensel said.
Wensel thanked the senior National Honor Society members.
"I would like you to join me in thanking our seniors. Mr. Ruark and I have enjoyed working with you. You have shown your dedication and service to your school, NHS chapter and community," Wensel said.
He addressed the inductees.
"I challenge you to continue to work hard, show integrity, show compassion toward others and lend a helping hand. Look at the accomplishments of those who came before you and strive to reach the bar that has been set and raise it even higher," Wensel said.
Wensel led the new inductees in the National Honor Society Pledge for Membership, after which they received a standing ovation from their parents, grandparents, friends, classmates and teachers.
"I present to you the newest members of the Canfield National Honor Society Chapter," Wensel said.
After the ceremony, inductees and guests enjoyed a reception in the cafeteria which included cookies, fresh fruit, pastries, lemonade and coffee.
More like this from vindy.com